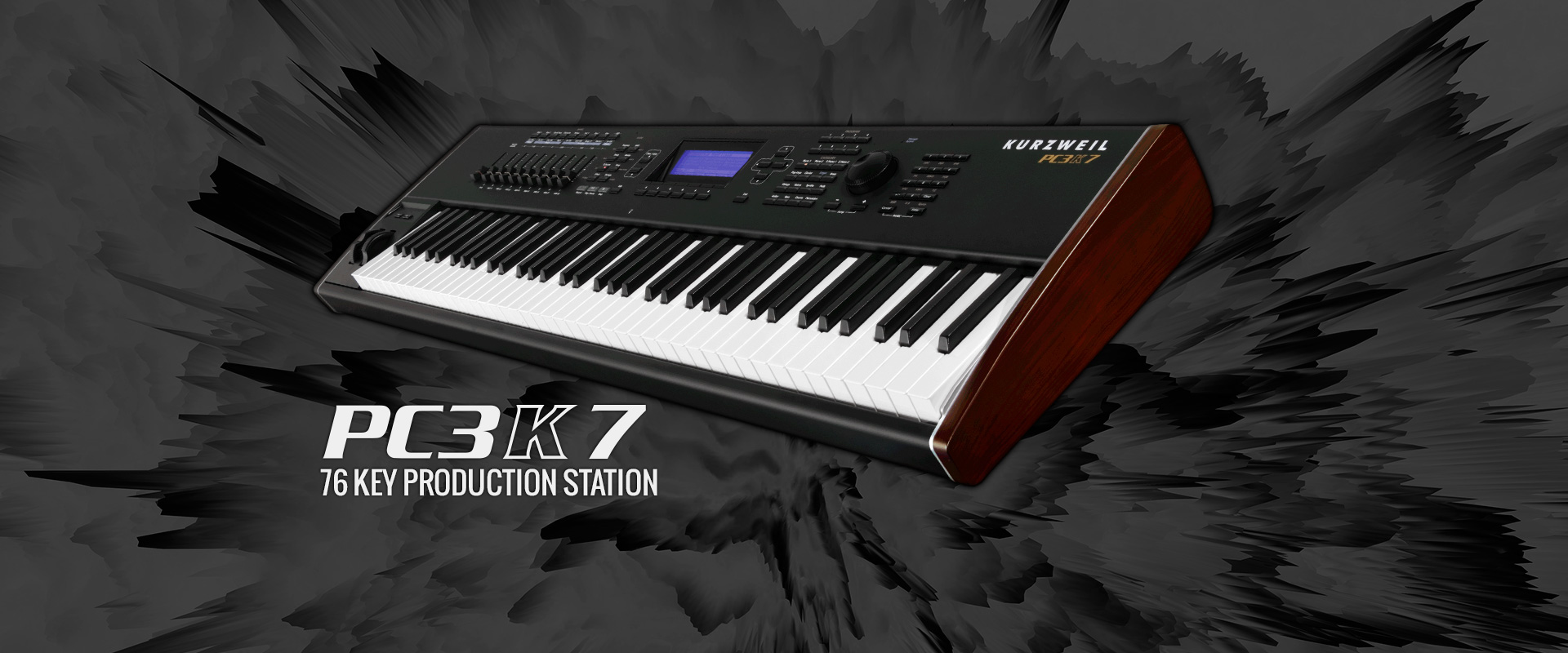 The PC3 introduced the world to a new generation of ground-breaking Kurzweil technology, having a synthesis architecture that remains unparalleled in depth and flexibility, combined with a staggering amount of effects processing power. The PC3 sound set, which encompasses everything from the traditional to the cutting edge, has been widely acknowledged as second to none.
And now the PC3's successor has arrived. The Kurzweil PC3K is the pinnacle of our PC3 line, bridging the gap between Kurzweil's past successes and present innovations.
An Old Friend
The PC3K, already loaded up with the many impressive features and sounds of the PC3, allows users to tap into the massive wealth of samples and programs developed for our legendary K Series over the past two decades. Capable of loading .KRZ/25/26 sample files, WAVE and AIFF files, as well as most of the K Series programs and setups, the PC3K presents a whole new world of choices to players, and once again underscores our commitment to the concept of non-obsolescence by design. You can choose to delve into the extensive libraries of existing K Series samples or decide to fill the PC3K's flash memory with your own signature samples. In either case, you'll have the most powerful version of Kurzweil's V.A.S.T technology ever developed at your fingertips to help sculpt your sounds and attain a level of detail and expressiveness truly worthy of your music. Sample files can be loaded via USB from a thumb-drive or directly from a computer.
Esto Immortalis
"Let it be lasting, immortal" (Latin)
User samples that do not "go away" when a keyboard is powered off – this is a feature that's been requested by keyboardists since the introduction of digital sampling in the early '80s. Clearly demonstrating the virtue of enduring quality, the PC3K offers 128 megabytes of user sample memory and compatibility with K Series files, while also taking an enormous leap forward by allowing user samples to remain intact while power is off. Once samples are loaded into the PC3K's flash memory, there is zero load time for those samples when powering on the instrument.
Advanced program, keymap and sample editing features allow you to customize your sounds with surgical precision. You're able to map any sample to any key, tune individual samples, change the start, alt start, loop point and end point of samples and even assign a controller to adjust sample start point in real-time.
Light Years Ahead
Under the hood of the PC3K is simply the most powerful synthesis engine ever created by Kurzweil. Dynamic V.A.S.T. picks up where the K series left off. Having up to 32 layers per program means that emulations of real instruments can be extremely detailed and accurate, while the synthesized sounds can be extraordinarily large and complex.
Expanding upon our V.A.S.T. architecture, the PC3K's new architecture delivers more power and flexibility combined with unprecedented ease of use. Users can now create and store their own DSP algorithms, with nearly limitless possibilities for routing.
In another huge development, we've resurrected the VA-1 Virtual Analog Synthesizer, having built its synthesis engine right into the new system. Hear the VA-1's power-shaped, anti-aliasing oscillators (including supersaw, triplesaw, and hard sync oscillators) combined with a newer, larger set of V.A.S.T. filters (like the classic-style 4pole low pass w/ resonance) and non-linear processors and you'll understand why the internet is buzzing about this feature.
It's The Sound
The PC3 Series' advanced synthesis architecture, along with its painstakingly-edited sample ROM, allowed us to create a sound set that is both broad and deep, with no compromises on sound quality. Referred to by some in the music industry as "the solid gold Swiss army knife", the PC3 line has become well known for having covered all the bases when it comes to presets. Whether it's the famous Kurzweil grand piano, the wide array of deadly-accurate vintage keys emulations, KB3 Mode, VA virtual analog sounds or the hundreds of world-class orchestral and string section programs, the PC3K provides over 900 presets that let you know that it does everything and does it well.
Plug And Play
Saving, loading and updating the OS are all made easy on the PC3K with the inclusion of both USB Host and Device ports. You can save your user programs, setups and songs to a USB thumb-drive or directly to a computer. Samples and OS updates can be loaded from a thumb-drive or directly from your computer, and of course the PC3K sends and receives MIDI over USB.
Finishing Touch
In a nod to the design of classic synths and keyboard instruments from years past, the PC3K, the top of our PC3 line, has been fitted with handsomely crafted wooden end-caps, adding an element of luxury and refinement that beautifully complements the awesome technology at the heart of every Kurzweil keyboard.
All specifications subject to change without notice.
All specifications subject to change without notice.
Keyboard:
76 note semi-weighted-action, with velocity and aftertouch sensitive keys. (Fatar TP8)
Display:
240 x 64 angled, backlit CCFL w/ dedicated back panel brightness and contrast controls.
Polyphony:
128 Voice Polyphony, dynamically allocated, lightning fast performance.
Multitimbral:
16 parts (one per MIDI channel)
Architecture:
Dynamic VAST: Powerful synthesis engine, with user programmable DSP algs and routing. More DSP power than even our K Series instruments.

VA1 Inside: anti-aliasing, power-shaped oscillators and DSP processing from Kurzweil's VA1 concept synth, capable of delivering authentic analog emulations as well as incredibly complex new sounds.

Cascade Mode: lets the user route one layer through the DSP of any other layer within a program – up to 32 consecutive layers deep!

Desktop Editor:
Mac and PC platforms (free download)
Factory Presets:
1074 Stunning Factory Presets (download full "object list" here)
Factory MIDI Setups:
150 factory programmed MIDI setups – featuring up to 16 independent zones, effects, independent controller assignments, triggerable pattern-based "Riffs" and arpeggiator settings.
Sample Flash Memory:
128MB of re-loadable*, non-volatile, user flash ROM

(loaded samples stay in memory even after power cycle).

*Samples can be loaded via direct-USB connection and/or USB thumb-drive but are best loaded via USB thumb-drive as direct-USB capacities are limited.

File Compatibility:
Loads from:

-PC3: all objects.

-PC3LE: all objects.

-K2 Series: the majority* of Setups, Programs and Keymaps. All RAM Samples are loaded. (see the V2 Addendum manual for details)

-AIFF and WAVE audio files.

O/S V2 or later required.

*Compatibility with K RAM samples will be %100. Compatibility with K programs will be around 80%

General MIDI:
Standard
User Memory:
16,000 locations for user objects.
Sound ROM Expansion Slots:
1
Sequencer:
Unlimited tracks (on import); 960 PPQ resolution. Song editing functions include both event and track-based tools like quantize, swing, remap, controller scaling and more. Controller chasing and a global "set song length" functions are also featured.
Effects:
16 insert effects distributed over 11 busses, two auxiliary sends and two Master Effects (saved with each song and setup); featuring over 500 of our award winning effects – reverbs, delays, chorus, flange, phaser, EQs, distortions, Leslie simulators, compressors, and more.
Master FX Section:
User controllable master EQ section and master compressor for quick adjustments during live performance or putting the final touches on your studio mix. (These do not use up the insert effect resources.)
Controllers:
Pitch wheel, modulation wheel, 9 front panel sliders/drawbar controllers, 10 front panel switches (momentary or toggle, software selectable), 3 switch pedal input, 2 continuous control pedal inputs, mono pressure, Super Ribbon input, breath controller input. Controller values can be "captured" and stored as part of a program.
Arpeggiator:
16 full-featured independent arpeggiators with multiple latch modes, selectable play order, velocity, duration, tempo, and sync functions as well as pre-recorded beats and musical phrases.
Riffs:
16 unique "Riff" generators, used for triggering MIDI sequenced phrases, beats, or complete multi-track arrangements from notes on the keyboard and/or any on-board physical controller.
Analog Outputs:
Four 1/4″ balanced TRS analog (24-bit DACs).
Headphones:
1 rear panel 1/4″ headphone output.
Digital Outputs:
24-bit, stereo S/PDIF featuring 44.1, 48, 88.2, 96, 176.4, and 192-kHz modes.

(externally clockable)

MIDI:
In, Out, Thru (hardware switchable to copy of MIDI Out).
USB Computer Port:
MIDI over USB. Also allows the PC3K to load/save data directly to and from a Mac/PC as well as perform OS updates.
USB Storage Port:
Supports USB thumb-drives for loading/saving user data as well as performing OS updates.
FREE OS Updates:
Flash ROM upgradeable via direct-USB or thumb-drive.
Included Accessories:
Power cable, Switch pedal, USB cable, (4) self adhesive feet
Height:
(4.33″) (11.00 cm)
Depth:
(13.98″) (35.50 cm)
Length:
(47.75″) (121.29 cm)
Weight:
(37.35 lb.) (16.94 kg)
Power:
Internal AC power supply.

Selectable 120/240V AC operation.
User Manuals
OS Updates
PC3K v2.45 Update – 15.5 MB
Contains: O/S Update, Installation Instructions, Release Notes, v2 Addendum Manual, Factory Object Lists
2018-09-12
Compatibility
Software Editors
Free Sample Download Libraries
(note: contains samples – for loading into PC3K series units only)
SynthScapes – 83 MB
Features a wide variety of synth textures, leads, pads, and keyboard comping sounds, created by combining timbres from many classic synths.
2011-05-10
Take 6 – 18 MB
Highly acclaimed collection of vocal-jazz articulations by the award winning acappella group Take 6.
2011-05-10
Free Soundware Downloads
(Extra sounds for your PC3/K/LE – requires OS v2 or later)
ACCORDN1.PC3 – 4 KB
7 custom accordion programs by Dave Weiser
2012-07-03