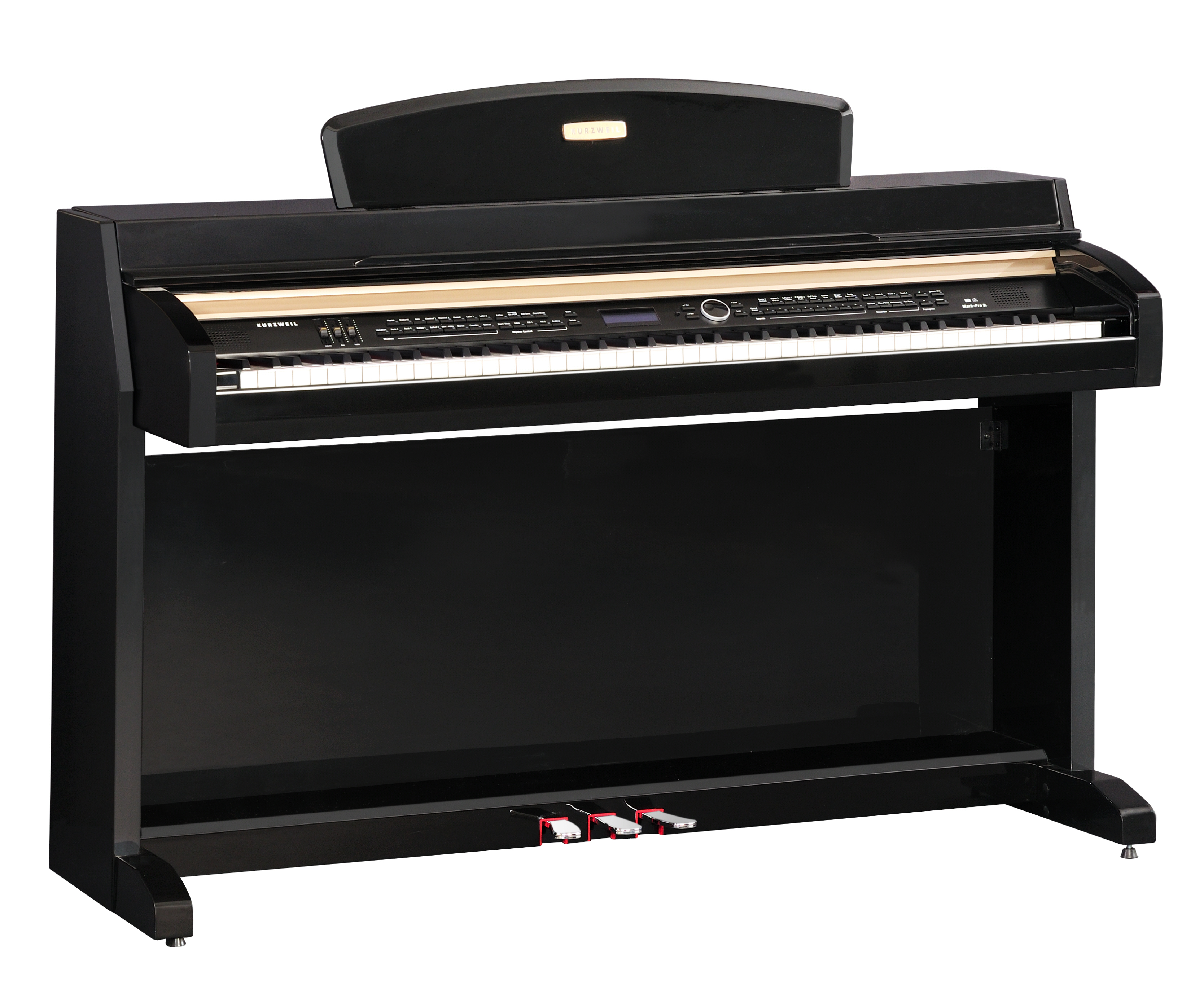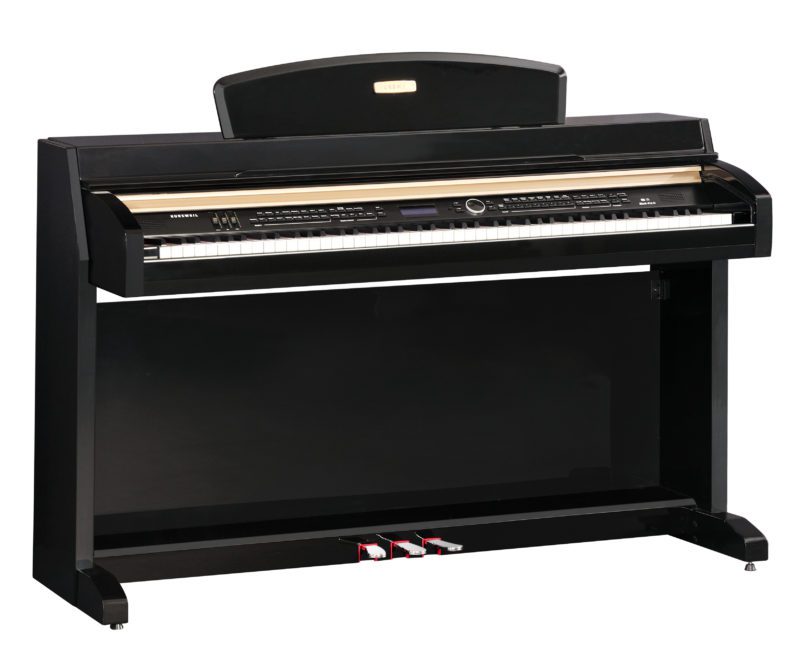 The Mark Pro 3 offers a fine, full-featured instrument that enhances your performance. As with all Kurzweil digital pianos, the Mark Pro 3i offers custom sound chip technology and handcrafted sound programming for exceptional sound quality and value. The core technology of the Mark Pro 3i, is it's next-generation sound chip, created by the Kurzweil R&D Institute in Waltham MA. The sound-source chip is the result of years of research in acoustic sound sampling. It is designed to create a magnificent deep and natural sound providing years of enjoyment for any player.
Expressive Sound & Action
The Mark Pro 3i offers fully weighted piano hammer action with velocity sensitive keys, designed by Fatar of Italy. The Mark Pro 3i provides 512 high quality built-in sounds, including Kurzweil's award winning "Triple-Strike Piano" sample. There are 4 banks of 128 sounds each with 16 sound categories, making it easy to find just what you're looking for. (Please refer to the online download of the owners manual for the complete list of 512 sounds).
Background Rhythm Accompaniment
There are 32 rhythm accompaniments allowing you to play your favorite style of music. These styles are carefully selected to provide you with the most frequently used performance rhythms. Let the piano provide your background rhythm of your left hand while using your right hand for accompaniment. The built-in Tap Tempo feature allows you to manually set the speed of your songs.
Educational Teaching
Built in to the Mark Pro 3i is a wonderful lesson guide library of elementary textbook music. There are a total of 106 Songs in Beyer and 30 songs in Czerny. You can select one of three play the left-hand part only, the right-hand part only and both hands in this mode.
Additional Features
The Mark Pro 3i includes a USB connector with complete MIDI functionality. The Mark Pro 3i adds audio in-out jacks to play out to your recorder or play along to your favorite music. Dual ambience and effects possessors add a generous amount of reverb and chorus choices with up to 128 variations. Record your own songs with the built in 4 track recording sequencer. Split, Layer, Transpose, metronome and dual headphone jacks are included. Along with this the Mark Pro 3i offers a wonderful 4 speaker 80 watt sound system.
Available in Satin Rosewood & Ebony Polish beautifully styled cabinets.
All specifications subject to change without notice.
All specifications subject to change without notice.
Mark-Pro THREEi Features

Keyboard: :
88-note, fully-weighted hammer action
Keyboard Sensitivity: :
4 selectable response levels
Display: :
2×20 character LCD
Polyphony: :
64 voice
Multitimbral: :
16 channel
Preset Programs: :
512 Selectable Sounds

(for complete program listing, please see the General MIDI:

Yes
Layering:
Any 2 sounds may be layered and their relative volumes adjusted
Splits:
Any 2 sounds may be split and their relative volumes adjusted. The split point is user-selectable.
Transpose:
Full transposition to any key, +/- two octaves
Tune:
Adjust by Cents (+/- 50 cents) or by Hertz (427.47 – 452.89Hz)
Effects:
64 Reverbs (halls/chambers/rooms) and 64 Variation Effects (delay/chorus/flange/filter/distortion/compression and more)
Auto Accompaniment Rhythm Patterns:
32 pre-recorded interactive patterns in a variety of styles
Recorder/Sequencer:
3 songs, (up to 4 tracks ea.)
Demo Songs:
50 built-in pre-recorded piano demo songs; 136 educational demos
Sound System:
80-Watt Amplification: 2 x 40 Watts RMS Per Channel

4 Speakers: 2 x 6.5 inch (woofers), 2 x 2.5 inch (tweeters)

Audio Outs:
Stereo left/right RCA line outs (for connecting to external amplification)
Audio Ins:
Stereo left/right RCA line ins (for connecting external sound sources)
Headphones:
(2) 1/4″ stereo headphone outs
MIDI I/O:
MIDI In & Out jacks
USB:
(1) port; "Plug and Play" USB functionality allows MIDI over USB for connecting to/from an external computer sequencer
Pedals:
(3) built-in switch-type: sustain, sostenuto, soft
Finishes:
Simulated Rosewood, Ebony Polish
Bench:
Matching bench included
Dimensions:
35.43″(H) x 55.90″ (W) x 19.70″ (D)

90 cm (H) x 142 cm (W) x 50 cm (D)

Weight:
150 lb. / 68 Kg
Power:
Built-in, free-voltage AC supply