Question:
How can I assign a switch pedal to navigate my stored Favorites?
Answer:
1) With the power off, connect a sustain/switch pedal into "Switch Pedal 2″ (and/or 3), then power on.NOTE: while the Forte supports using either traditional 1/4″ (TS) or half-damper 1/4″ (TRS) switch pedals for piano-sustain, for this application you will want to only use traditional 1/4" (TS) pedals.
2) Press the GLOBAL mode button – you will see: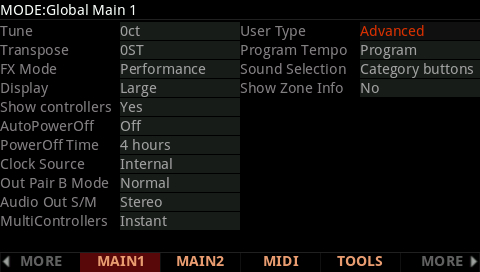 3) Press the MAIN2 soft button: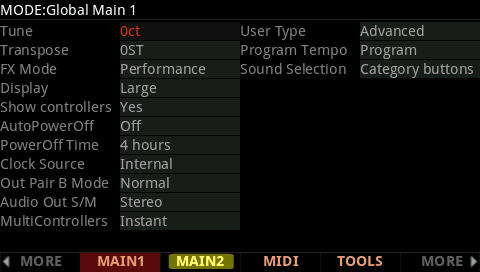 4) Using the cursor navigation arrow buttons, highlight the "SW Override" parameter for your chosen pedal (SW2 or SW3). By default it is set to "None". Using the alpha wheel and/or Previous/- Next/+ buttons, change it to "Favorite Inc" **: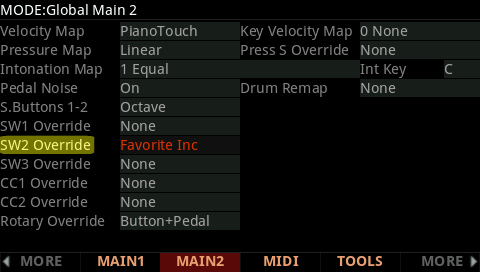 5) Press PROGRAM or MULTI to exit.
---
TIPS:
**Choose "Favorite Inc" to move forward through your Favorites. Choose "Favorite Dec" to move backwards through your Favorites.
Use two separate pedals (one connected to SW2, one connected to SW3) and set one to "Inc" and one to "Dec" for two-way navigation.
Enable 'Advanced' User Type and 'Favorites View' to access up to 500 Favorites.
---
USAGE NOTES:
The pedal will cycle/wrap around the 10 available Favorites button slots within the current Favorites bank.
If using Advanced User Type, and multiple Favorites Banks, you will need to manually select the Favorites bank using the Chan/Zone buttons first, then you can use the pedal to walk through that current bank of 10 favorites.
Complete details on the use of pedal overrides can be found in the Forte Musician's Guide (pg. 12-11).
---