Question:
How does the Forte's "Favorites" system work?
Answer:
Much like car radio station presets, the Forte lets you store your Favorite Programs/Multis for instant one-button recall. There are two modes to choose from: 'Regular' (offers 10 favorites) and 'Advanced' offering 500 (see further below).
REGULAR OPERATION (default setting) – 10 Favorites:
Select the a Program or Multi you wish to store as a Favorite.Ex:

Press and hold a given FAVORITES button for a few seconds to store the current Program or Multi to that button location.

You will see a pop-up message displayed as confirmation:Ex:

"Favorite 3 saved".

Go back to step 1 and repeat as needed.
To later recall the given Favorite, from Program or Multi mode, simply press the corresponding FAVORITES button. (Note: Individual "Fav Bank" objects can also be stored to disk for backup using the Advanced Store option)
TIP:
Press VIEW (once) to select the "Favorites" view mode.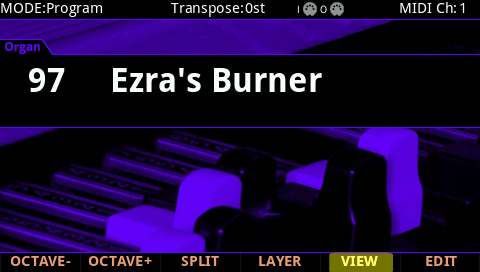 In doing so, the names for the 10 stored Favorites will be displayed at the bottom of the screen, making it easier to remember what was stored in each location.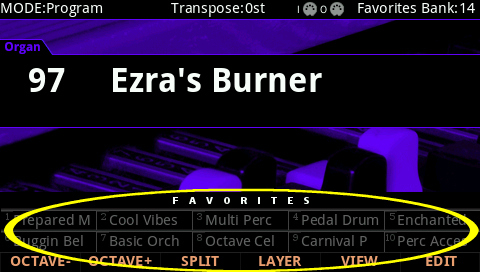 ---
ADVANCED OPERATION – 500 Favorites:
Introduced at update v1.40, the Forte added support for storing/recalling 50 banks of Favorites – each "Bank" is comprised of 10 button selections. This gives you access to 500 Favorites via bank switching.
Here's how it works:
Press VIEW to enable "Favorites" view mode (see TIP above).
Press the GLOBAL mode button.

Set "User Type" to 'Advanced':

Press PROGRAM or MULTI to exit.
Using the CHANNEL/ZONE up/dn buttons to the left of the display, you can now flip through the 50 different Favorites banks. The current Favorites Bank number is displayed in the upper right hand corner of the screen:




You can now quickly access one of 50 banks, see what Program/Multi is stored in a given slot and make your selection.

---