Olivia Thai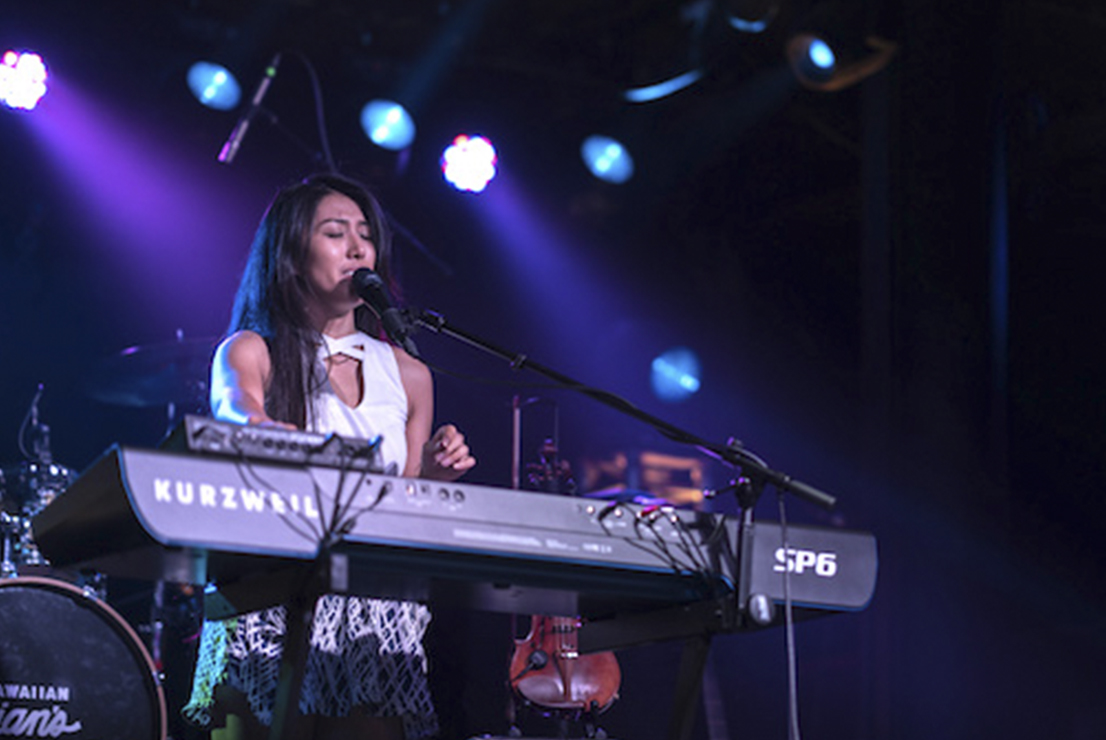 "My Kurzweil SP6 brings my performances to new heights. I love it because it actually feels and sounds like I'm playing on a nine-foot grand piano. This keyboard gives me the freedom to play anything from simple pop tunes to jazz to complex classical pieces while sounding authentic to the genre. Kurzweil is the only brand I recommend for any serious musician."
– Olivia Thai
BIO
---
Olivia Thai engages with her audience in a meaningful, yet comedic and relatable way. Her music is the perfect balance of truth, creativity, and sophistication. She is able to captivate her audience by being a multi-instrumentalist with the ability to beat box, play the violin, guitar, and piano while singing – all at the same time. She records each instrument on stage with a looping machine. After creating her composition live, she adds her dynamic and soulful vocals to complete each song. In addition to writing over 200 songs, Olivia was on the last season of American Idol on FOX, won Taiwan Idol, and won Megastar, Usher's worldwide talent competition in 2018. She has over 21 million views on YouTube with over two million fans worldwide. Olivia was also a writer and comedic actress for a comedy channel with over 2,000,000 subscribers.
---
– R a n d o m   F a c t s –
She is not Thai – she is actually Chinese American.
Winner of Megastar's December Spotlight 2018.
#1 R&B artist on ReverbNation in 2015 & 2016.
Featured as a contestant on FOX's American Idol XV in 2016.
Received Best R&B Ballad at the Akademia Music Awards 2015.
Received the Indepedent Music Award at the Hollywood Music in Media Awards 2015.
Hawaii & LA-based singer-songwriter with 21,000,000+ YouTube views & 2,000,000+ fans.
Winner of Taiwanese Idol 2009 (ETTV Top Idol).
Winner of CCTV Singing Competition, UCLA HKSS Internal Singing Competition, Asian American Sports Club Singing Competition, and several other local Los Angeles singing competitions.
Former National Anthem singer for NBA's Los Angeles Clippers & WNBA's Los Angeles Sparks.
Speech Level Singing (Level 5) voice instructor since 2008.
Started college at 13 years old.
Plays the piano, violin, and guitar.
Can sort of beat box + play ukulele, bass, cello, viola, clarinet, and most instruments.
Speaks English, Cantonese, Mandarin, and Diojiu.
Studies French, Spanish, Portuguese, Japanese, Korean, Vietnamese, Italian, Russian, and Arabic regularly.
Develops recipes for ProduceParty on Instagram.
Former main cast, writer, and staff member at JustKiddingFilms.
Has a latte in hand 90% of all non-music-playing waking hours.
Artist Profile
---
Products Used
Projects featuring Kurzweil gear
American Idol on FOX
Taiwan Idol
Megastar
Usher's Worldwide Talent Competition
ReverbNation
Online Presence