Nick Smith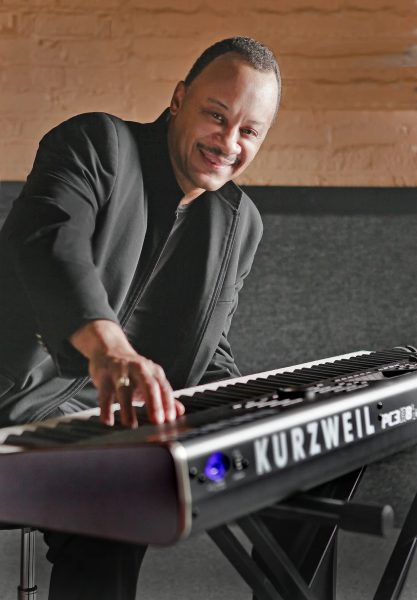 "Kurzweil has the best feel (closest to a real piano) when compared to other manufacturers' keyboards.  I love the ease of using the MIDI Zones, and the sounds – especially the piano – are the greatest."
-Nick Smith, keyboardist/composer/arranger/producer
BIO
---
Nick Smith was born in Cleveland, Ohio. He is the ninth of ten children born to Betty and James Smith. From the age of nine to sixteen, Nick and his brothers, known as Transformation, played at various Cleveland locales. After he reached sixteen, Nick formed his own band, Art Effect. He developed a following and played at several Cleveland clubs until he went to Boston to attend Berkelee College of Music, where he studied Jazz Composition.
Nick chose to be a Jazz Pianist because Jazz is a spiritual, versatile, and challenging art form. His playing style is precise, free flowing, and rhythmically diverse. Not only is Nick an outstanding Jazz performer, he can also play soul, funk, country and western, rock, and pop. He is a musician's musician-believing that there are only two types of music, good music and bad music. He also believes that older musicians should reach out to younger musicians to promote their interest in the fundamentals of great music and provide guidance in increasing their skills.
Nick has toured with various artists, including Stanley Clarke, Stevie Wonder, Queen Latifah, Kenny Garrett, Kirk Whalum, George Duke, Roy Ayers, Brandy, Kenny Lattimore, Donald Byrd, Michel Polnareff, and Dianne Reeves. For almost ten years, Nick toured with Stanley Clarke and worked on the Showtime series Soul Food and several movie projects. Some of the movies include Higher Learning, Eddie, Sprung, Funny Valentine, and The Color of Friendship. Nick also worked with bassist Robert Hurst on the music for the motion picture, Brown Sugar. In 1995, Nick appeared nightly on the Tonight Show featuring Jay Leno. After leaving the Tonight Show, Nick built a home studio and began recording. He has composed enough music to complete several CD's and is currently working on three CD projects.
Artist Profile
---
Products Used
Plays With
Stanley Clarke
Stevie Wonder
Queen Latifah
Kenny Garrett
Kirk Whalum
George Duke
Roy Ayers
Brandy
Kenny Lattimore
Donald Byrd
Michel Polnareff
Dianne Reeves
Projects featuring Kurzweil gear
It's Like That (Nick Smith)
Morning Tenderness (Najee)
She's Fione (Disney Movie – Color of Friendship)
various songs from the movie 'Sprung'
various songs from the Showtime series 'Soul Food'
various songs from the movies 'Funny Valentine' and 'Little John'
Online Presence