Hannah Holbrook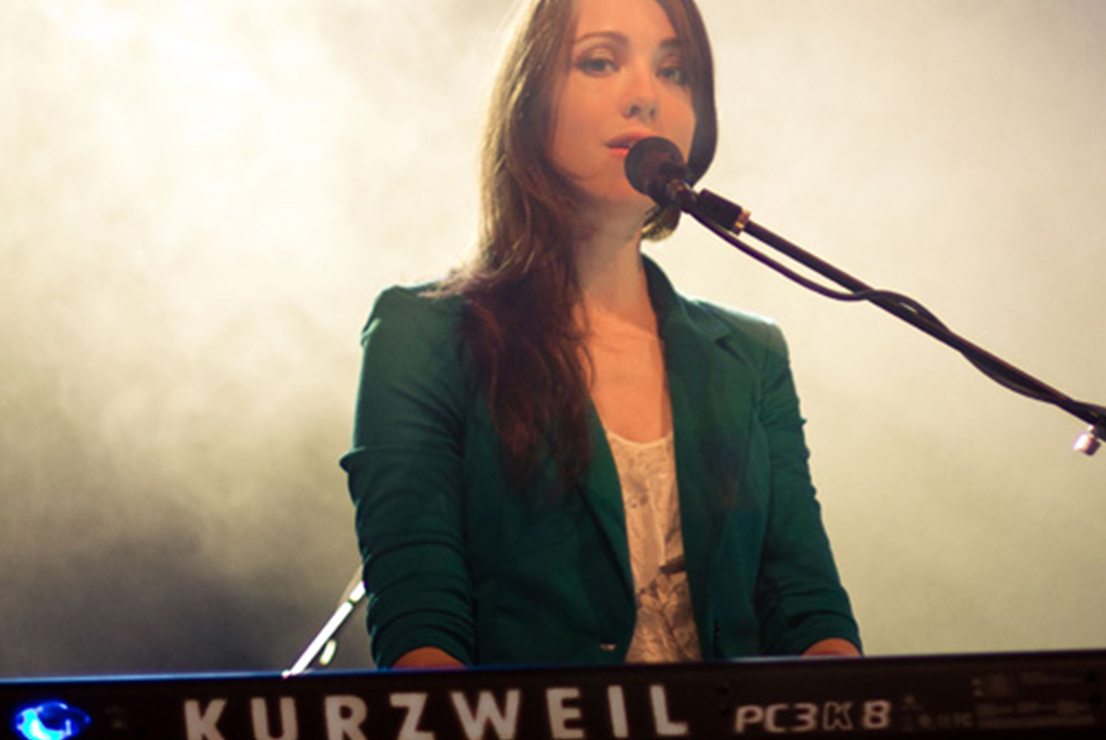 BIO
---
Hannah Holbrook always wanted to be a concert pianist. The type that would perform at Carnegie Hall all dressed in a long, dark shimmering gown and go out for martinis with important people afterward. She started playing jazz piano when she was 10 and moved into classical studies and composition through high school and college. Every spare minute outside of school was spent writing, arranging songs and performing with her sisters as SHEL. Maybe it was the talented freshman with their Rachmaninov Concertos besting her in her performance classes, maybe it was hard to fit into an environment where improvisation and composition were not as welcome as near perfect performance and accurate stylistic interpretation of someone else's work, or maybe it was just the way that each part she contributed to SHEL seemed like it was meant to be there, and made her feel that she was right where she was meant to be as well. Slowly, but surely, SHEL became Hannah's new dream. Traveling the country, performing with her best friends, creating music that she loves – and while she sometimes misses the practice rooms, elegant recitals, Chopin, Mozart and Bach – the taste of a dream realized is far sweeter than that of a life imagined.
Every time I turned around, someone was recommending Kurzweil to me. Once I tried it out for myself, I knew it would be perfect. The Kurzweil has great piano sounds. I'm a bit of a purist, so the more natural sounding the better.
When it come to the sounds, I love piano patch 3 – RubensteinSWCom (crisp, yet slightly resonant. I can play anything with that patch). I was delighted to find patch 27 – Supertramp Wurly and patch 55 – Fooled Again (love the classic rock). I use patch 476 – Solo Cello Fast (I've been very frustrated with cheesy string patches in other keyboards, but Kurzweil did a great job here) and of course, Patch 332 – Mellotron Flutes (strawberry fields forever :).
The type of sounds I use most are piano, cello, organ. I studied classical and jazz piano, so most of my musical life has been spent on a grand. I want to get as close to natural sound and feeling as possible when I'm performing with SHEL. When it comes to touch, the piano feels very natural. The dynamic range is comparable to my grand. I love the string patches that swell as you hold the keys down. The organ patches with weighted leslie control are fabulous as well.
With emulating vintage keys and synths (Rhodes, Wurly, B3, Clavinet, analog synths, mellotrons, etc.) ohhh… it's the best! Last year I was recording on an old Rhodes and a B3 with a leslie and loving the real sound compared to older keyboards I've used. I was relieved to find sounds on the PC3 that will fit seamlessly at live concerts and in the studio.
I had a fabulous K2600xs that pretty much made me a Kurzweil fan for life. I love that my new Kurzweil is lighter than my K2600. The categories and banks make it easy to move from strings to horns without missing a note.
I use it live at shows with SHEL or whenever I do a solo gig – keyboard and vocals. I use it in our home studio, bring it out to our producer's studio in Nashville. Practice on it with the band in our living room and in rehearsal halls, write songs on it while we're traveling. I take it everywhere. I'm still learning my PC3K8, but I'm very excited to be creating new patches on it with the kind of control and accessibility that I've had with the K2600. It's more intuitive than other keyboards I've tried over the years. I love that the buttons don't wear out, the keyboard shell is durable… and it looks amazing!
Artist Profile
---
Products Used
Plays With
Projects featuring Kurzweil gear
Mad King (SHEL 2010)
Try To Scream (SHEL 2010)
When The Dragon Came Down (SHEL 2011)
Online Presence