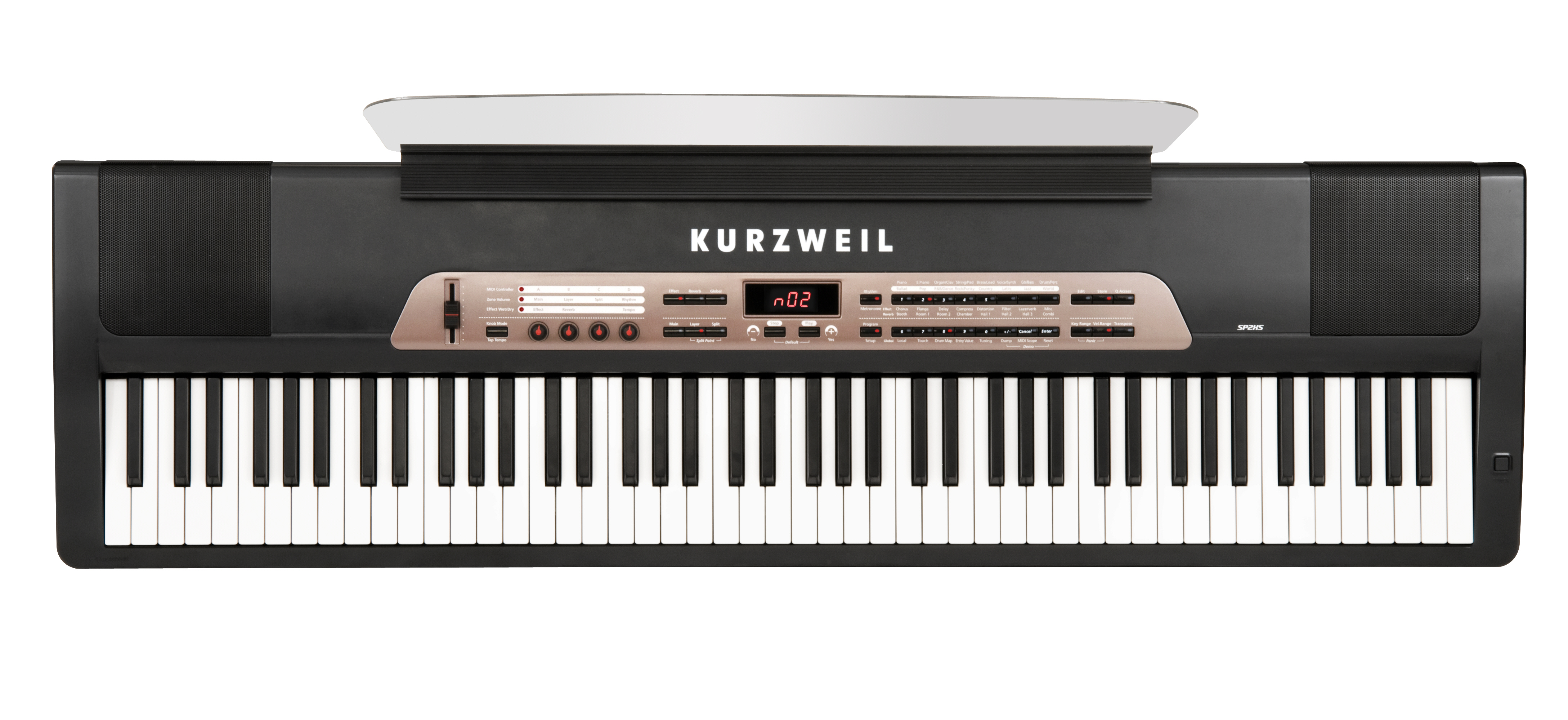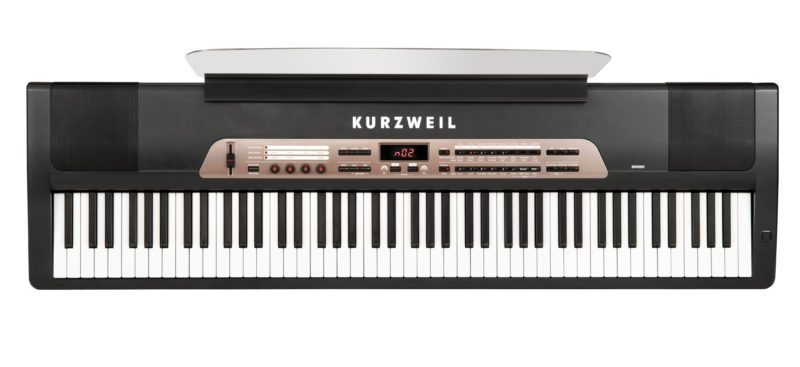 Superior Technology on the Inside
Elegant Simplicity on the Outside
The Best…
The SP2XS delivers the legendary Kurzweil sound, with all of its detail and refinement, in a digital stage piano which is both professional and easy to use. Using the next generation of Kurzweil technology, the SP2XS provides some of our best sounds: pianos, EPs, strings, pads, mallets and voices, all available at the touch of a button.
The Sound and Feel…
Endless hours of engineering and sample editing went into our Triple Strike Grand Piano sound, and it shows. Behind the scenes, the SP2XS's powerful synth engine brings these samples to life and makes them sing. The result is an instrument which not only sounds like, but feels like a real piano.
Polyphony…
64 note polyphony ensures that notes will continue sounding even under high demand performance situations.
Connectivity…
A USB interface allows the SP2XS to connect to a computer (Mac or PC) for complete MIDI performance and OS updates.
World Class Effects…
The SP2XS features Kurzweil's renowned effects processing technology, the same leading-edge technology found in all of our professional products. The SP2XS's effects can put the right finish on any sound whether it's crystal clear or warm and organic. Nothing else in the industry even comes close in this department.
Drum Patterns and Rhythms…
Ideal for both practice and songwriting, the SP2XS comes equipped with 64 pre-recorded drum grooves, rhythms and adjustable metronome.
All specifications subject to change without notice.
SP2XS Features

Keyboard:
88-note, fully-weighted hammer-action, with velocity sensitive adjustable keys
Display:
7-segment 3-digit LED
Polyphony:
64 Voice Polyphony, dynamically allocated
Multitimbral:
16 parts (one per MIDI channel)
Factory Presets:
64 Programs
MIDI Setups:
16 user setup locations with 4 programmable zones for splits, layers and rhythms
Effects:
Dual Processors (A & B) offering: 58 Reverbs, 6 Delays, 10 Choruses, 6 Flangers, 3 Phasors, 4 Shapers, 2 Enhancers, 8 Filtered Effects, 4 Distortions, 1 Mono>Stereo, 3 Wide Stereo, 4 Compressors, 2 Panners, 7 Rotarys, Stereo Tremolo, and 44 combination effects chains utilizing Kurzweil1s unique Laserverb
Metronome:
Yes
Drum Grooves:
64 pre-programmed patterns
Controllers:
4 front panel knobs, 1 switch-pedal input, 1 continuous control pedal input
Sound System:
2×20 Watts RMS stereo

3×5″, 4-ohm full-range drivers with whizzer cone

Tuned, ducted-port enclosures

80Hz-15kHz frequency range

Analog Outputs:
Two unbalanced RCA female connectors (24-bit DACs)

30Hz-20kHz, +/- 1 dB

Analog Inputs:
Two unbalanced RCA female connectors
Headphones:
Back panel, 1/4″ headphone output
MIDI:
In, Out, Thru
USB:
Complete MIDI functionality over USB as well as OS updates (both Mac & PC)
FREE OS Updates:
OS updates over USB and/or over MIDI

SP2XS Specifications

Height:
(28.46″) (72.30 cm) – with stand

(4.76″) (12.10 cm) – without stand

Depth:
(14.49″) (36.80 cm)
Length:
(51.77″) (131.50 cm)
Weight:
(71.21 lb.) (32.30 kg) – with stand

( 43.65 lb.) (19.80 kg) – without stand

Power:
External power supply
Basic Concepts & User Interface
Operating System Updates
Setup Mode
Troubleshooting
MIDI Controllers
Program Mode
Transpose & Tuning
User Manuals
OS Updates
Device Installer
For Windows XP Only.
Note: Mac OSX, Windows Vista and later do not require a driver/device installer.