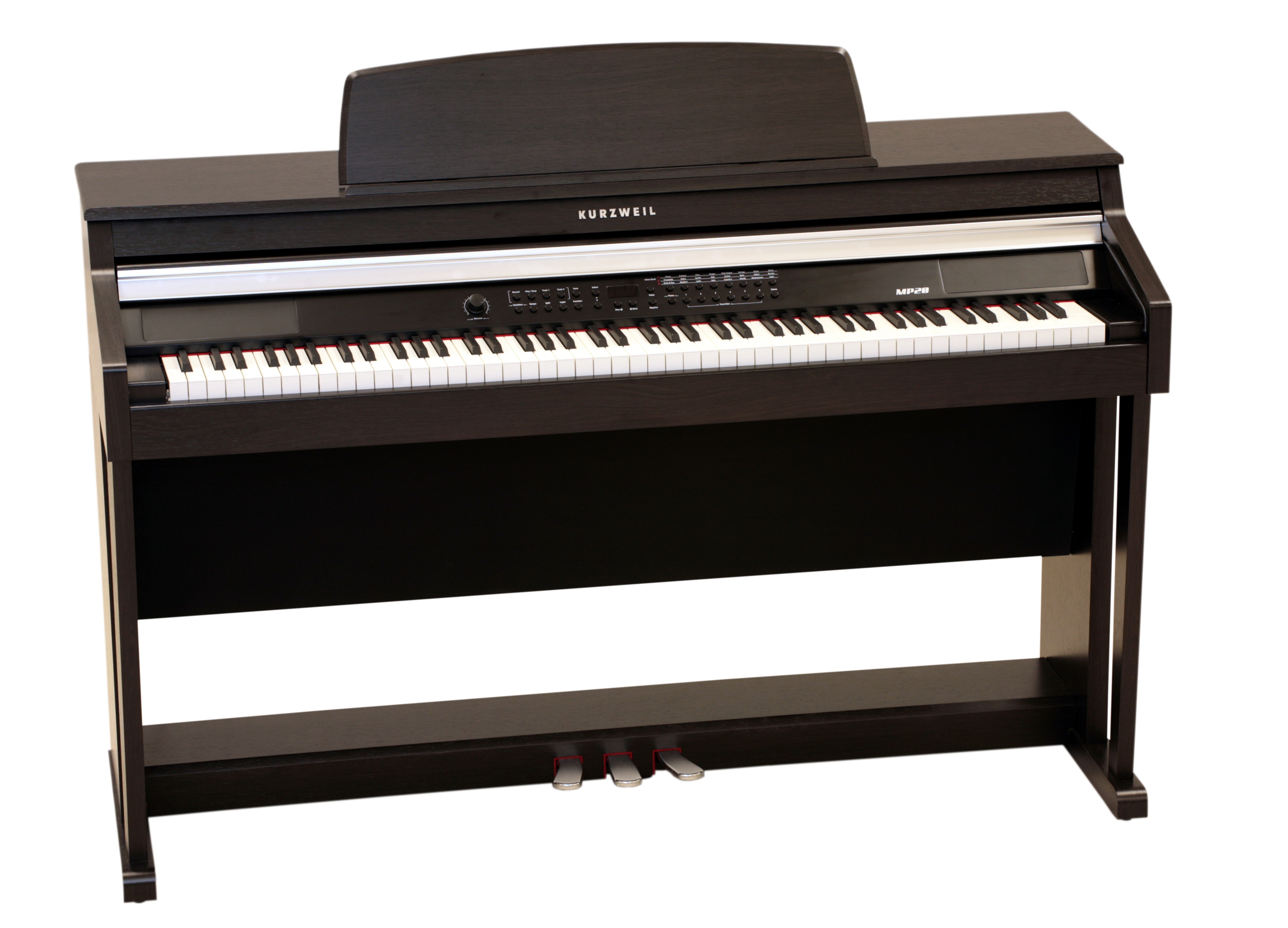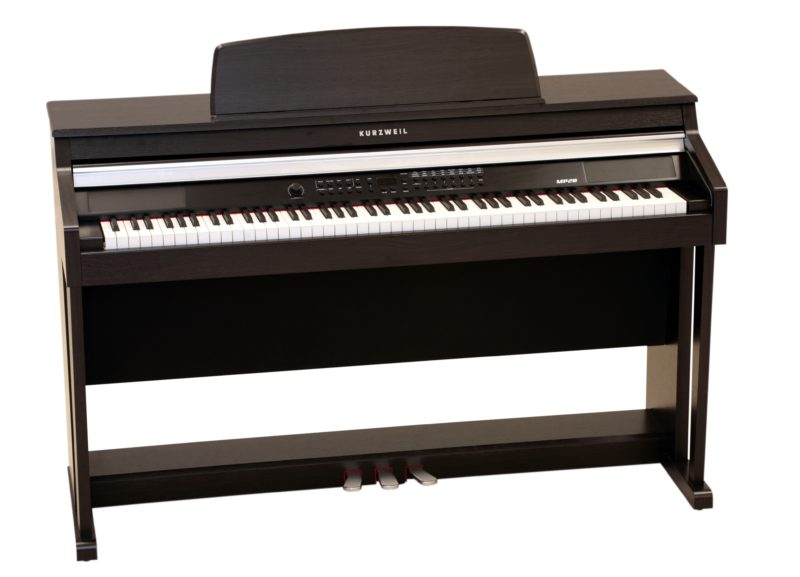 Discontinued Model
Downloads and support materials maintained here as a courtesy to owners.
The RE-220 is a digital piano of great lineage. With a sound engine derived from our 2001 TEC Award winning PC2 Performance Controller, the RE-220 offers an array of performance features and superb sounds.
Fully Weighted, Graded Hammer Action
Employing a new 4-zone graded hammer action keybed, the RE-220 is designed to simulate the feel of a real acoustic piano. With 7 levels of velocity sensitive adjustment, the performer can tailor how the dynamics of the sounds respond to key velocity.
Preset Sounds
The RE-220 boasts 37 incredible sounds, including our acclaimed Triple-Strike Stereo Grand Piano, our new lush Stereo Strings, multi-strike Classic Electric Pianos (both Classic Tine EPs and Wurlitzer(TM)), FM Electric Piano, Harpsichord, Brass Sections, Organs, Pads, Mallets, Guitars, Basses, Drums, Percussion, and Voices (featuring Kurzweil's outstanding Take 6 vocal samples).
Three Pedals
The RE-220 is equipped with 3 dynamically programmed pedals which enhance one's musical expression. Individually tailored to each onboard sound, the pedal functions change to suit the characteristics of the selected instrument, enabling truly expressive performance.
Sound Layering And Left Split
All sounds within the RE-220 (except the bass guitar) are readily layered to create a more luxurious sound. The volume balance of layered sounds is also easily adjusted. In addition, the left split function (which divides the keyboard into two separate parts, each with its own instrument) allows one performer to sound like two or enables two performers to play duets.
Reverb and Effects
For a heightened sense of sonic realism, the RE-220 provides you with two independent types of digital signal processing: Reverb (Room, Stage & Hall simulations) and Effects (Chorus & Flange). Each sound within the RE-220 can have its own unique combination of these, configurable to taste.
Built-In 2-Track Recorder
The RE-220 Recorder offers two Song memories comprised of two tracks each. One of the biggest advantages in the RE-220 recorder is that not only does it record your individual solo performances, but it also records any layered and split sound combinations together into each track and even remembers real-time sound changes. As a result, the recorder can actually record and play back up to 6 simultaneous parts.
MIDI Implementation
The RE-220 is a full 16 channel multi-timbral device. Built-in MIDI In/Out ports provide a convenient means of connecting to external MIDI devices, such as a computer sequencer, where all 16 channels can be accessed independently. In addition, the RE-220 supports MIDI system exclusive dumps for back-up and restore of song data and global settings.
Self-Powered Sound System
The RE-220 has is its own custom 60-watt power amplifier and matched two-way, high efficiency speaker sound system, featuring new dual 6.5″ low end drivers, which are optimized for the RE-220 cabinetry. Front panel bass and treble tone controls allow for user preference. Built-in free voltage power supply just plugs in with no voltage selection required.
All specifications subject to change without notice.
All specifications subject to change without notice.
RE-220 Features

Keyboard:
88-Note weighted, 4-zone graded hammer
Keyboard Sensitivity:
7 levels of adjustment
Display:
3-digit, 7 segment LED
Sounds:
37
Polyphony:
32-Voice
Multi-timbral Parts:
16
Sound Layering:
yes (with layer volume balance)
Split Keyboard:
yes (customizable split)
Transpose:
+/- 12 semitones
Tuning:
+/- 100 cents
Intonation Tables:
6 (Equal, Classic Just, Just flat7th, Pythagorean, Mean Tone, Werkmeister)
Reverb/Effects:
Room, Hall, Stage Reverbs, Chorus and Flange effects
EQ:
Bass & Treble Tone controls
Recorder:
2 Songs, 2-Track (with metronome & tap tempo)
Pedals:
3 Dynamically Switched
MIDI:
In/Out
Amplification:
60 Watts (2×30 W RMS per channel)
Speakers:
4 total (2- 2″ tweeters & 2- 6.5″ woofers)
Headphone Outputs:
2 (1/4″ stereo)
Aux Line In:
1 (1/4″ TRS/stereo)
Aux Line Out:
1 (1/4″ TRS/stereo)
Cabinet Finish:
Simulated Rosewood
Height:
35″ / 89 cm
Depth:
19.7″ / 50 cm
Length:
54.3″ / 138 cm
Weight:
125 lb. / 57 Kg
Power:

Free Voltage Power Supply

100-240VAC (+/- 10%)

25W nominal, 100W max