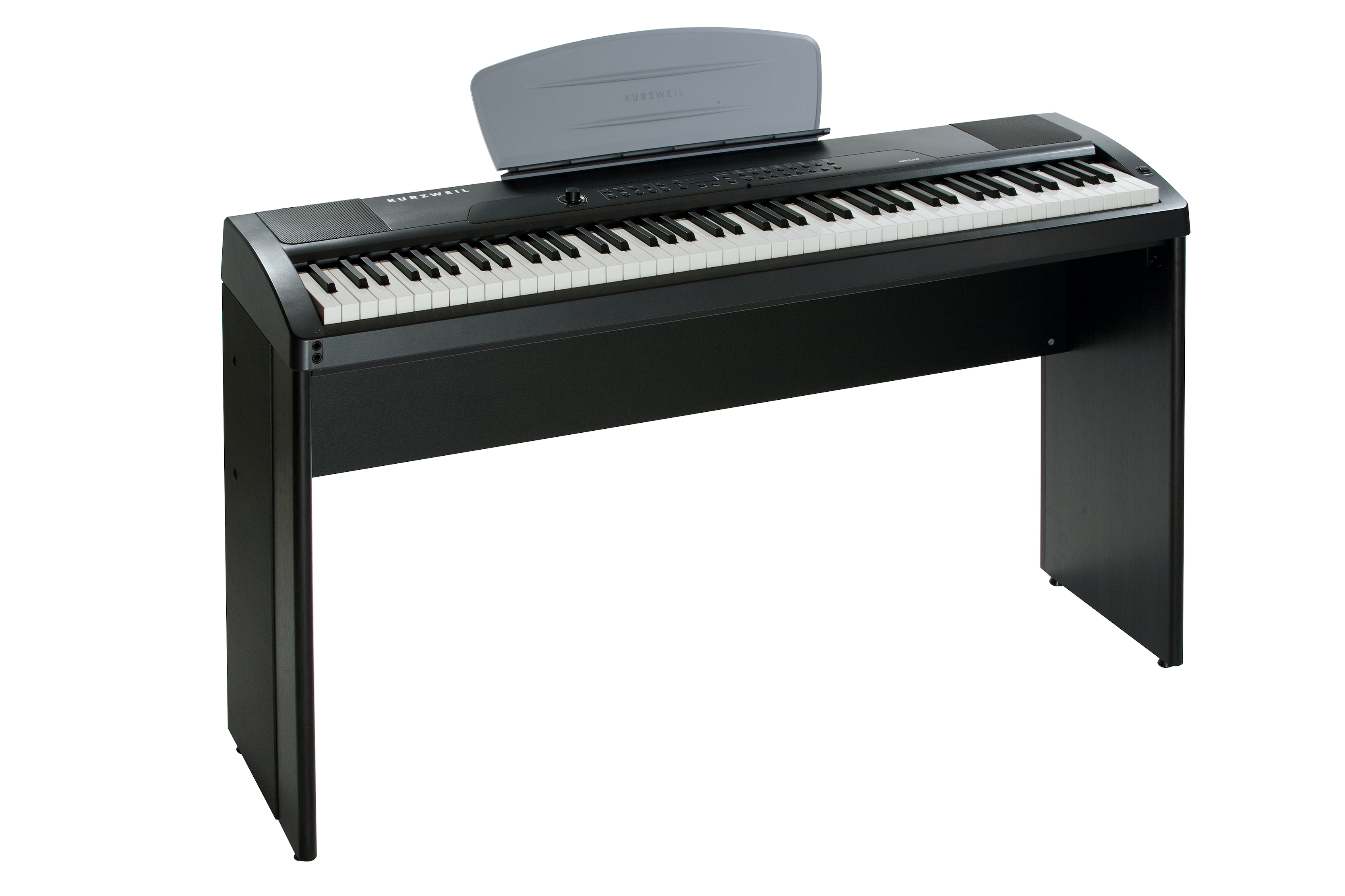 The MPS20 is the ultimate "Pro-Consumer" portable piano for the home user, studio player, student, or pro gigging musician.
The MPS20 more than doubles the amount of pianos & organs found on the MPS10. Included are 24 pianos featuring Kurzweil's newest "Pro Piano" program. With 100 rhythms & 10 drum kits, the MPS20 goes beyond conventional piano features including a built-in library of over 200 sounds taken from the PC3 series keyboard. Included are a variety of categories, each with their own custom default voice preset. These include, electric pianos, tone wheel organs, pipe organs, strings, vocals, orchestral ensembles, synthesizers, and many more to inspire creativity.
The MPS20 is Kurzweil's first digital piano to feature the all new LK40 GH+ Graded Hammer "Escapement" Action Keyboard. The MPS20 keyboard grades the hammer weight in 4 zones, from heavier in the bass, to lighter in the higher octaves. The action also features an escapement, which reproduces the let-off and jack engagement of a real acoustic piano.
Other step-up features from the MPS10 include a new 2-Track sequencer with 20 song presets, and a new doublewide scrolling alphanumeric display. The MPS20 adds 6 "Favorite" voice presets, rich effects, selectable touch sensitivity, split, layer, transpose and 51 demo songs. In addition, Kurzweil adds a new "Variation" button, offering subtle voice changes to your existing sound.
The MPS20 comes complete with a built-in 4 speaker, 30-watt monitor system, stereo input and outputs, MIDI, and USB. The MPS20 is housed in an attractive matte black cabinet, and comes complete with a portable music rack. Add the optional furniture-style music stand, and you're ready-to-go for either home or portable use.
All specifications subject to change without notice.
Keyboard:
88-Note, Fully-Weighted, Graded Hammer-Action Keyboard (LK-40GH)
Keyboard Sensitivity:
10 selectable response levels
Display:
Scrolling 4-character, dot-matrix LED
Polyphony:
64 note
Preset Programs:
200 expressive sounds including award winning Triple Strike Grand Piano, all taken from the PC3.
User Presets:
6, one-touch recallable "favorites", providing quick access to customized selections.
General MIDI:
No
Splits/Layers:
Quick Split/Layer, easy access with adjustable relative volume
Transpose:
Full transposition to any key, +/- two octaves
Tune:
+/- 100 cents
Effects:
Dual ambience and effect processors (reverberation and chorus). Rich and complex effects from the PC3 Series.
Drum Patterns:
100 pre-recorded interactive patterns in a variety of styles (incl. metronome)
Recorder/Sequencer:
2-track; 20 song capacity.
Demo Songs:
51 classic piano demonstration songs
Sound System:
30-watt 4-speaker stereo sound system
Audio Outs:
Stereo left/right 1/4″ line outs (for connecting to external amplification)
Audio Ins:
Stereo left/right 1/4″ line ins (for connecting external sound sources)
Headphones:
(2) 1/4″ stereo headphone outs
MIDI I/O:
In and Out connectors
USB:
(1) port; "Plug and Play" USB functionality allows MIDI over USB for connecting to/from an external computer sequencer; no software driver needed
Pedals:
(1) dual switch-type jack (single switch-pedal included);
(1) jack for optional single Expression pedal
Finishes:
Dark Gray
Stand:
Matching stand optional
Bench:
Sold separately
Included Accessories:
Power cable, Switch pedal
Dimensions:
Instrument: 3.54in(H) x 51.6in(L) x 14.2in(D)
8.9cm(H) x 131.1cm(L) x 36.1cm(D)Stand (optional): 26.0in(H) x 51.2in(L) x 13.8in(D)
66.0cm(H) x 130.1cm(L) x 35.1cm(D)
Weight:
39.7 lb / 18.3 Kg
Power:
90-250V free voltage external power supply (incl.)
(DC Power jack – 15VDC, 2.5A)
Basic Concepts & User Interface
Product Comparisons
Rhythm Mode
Song Recorder
Troubleshooting
User Manuals
OS Updates
MPS20-V226-Update– 2.8MB
.KUF file (O/S v2.22.1239; Objects v1.00.21; Boot Loader v1.57);
Read Me (installation instructions and revision history)
2014-02-11