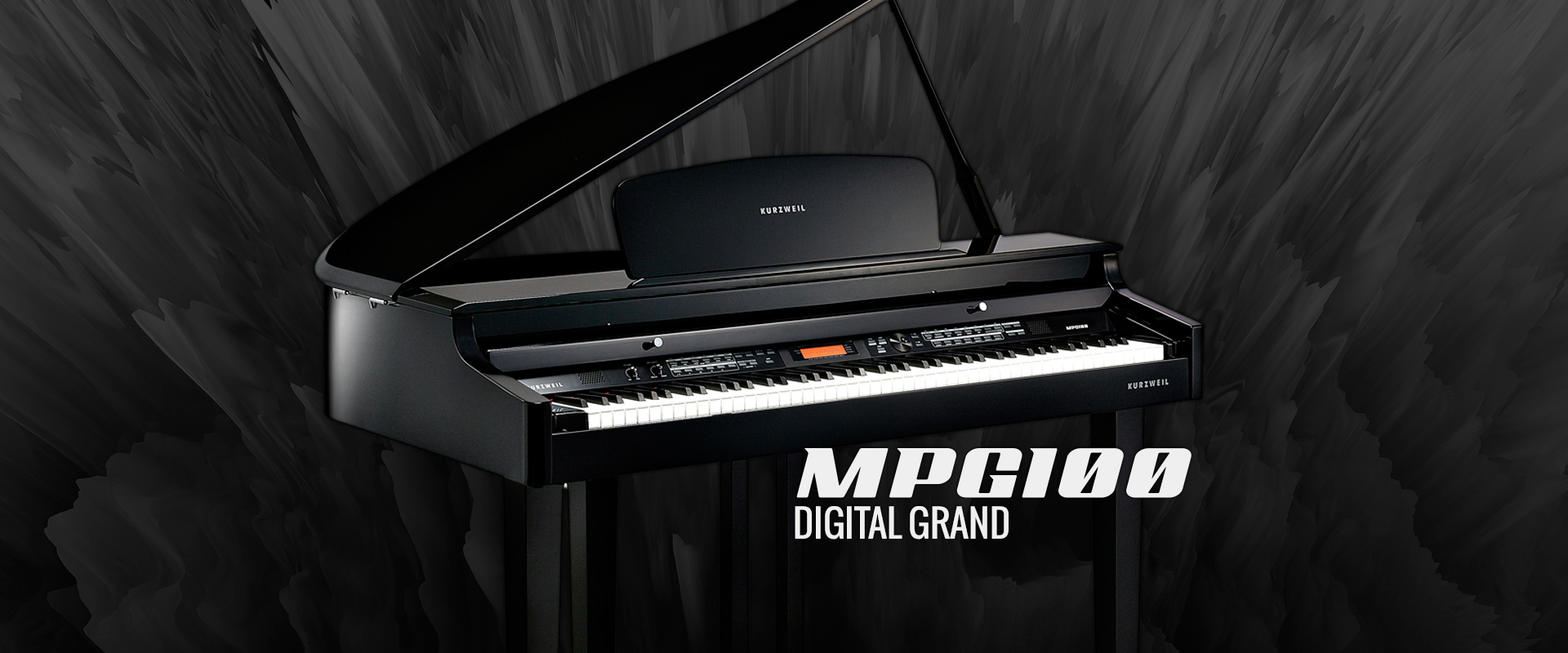 Mini Size Baby Grand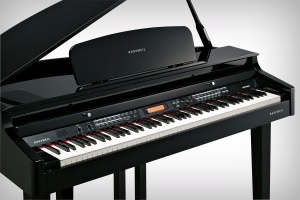 The MPG100 combines an elegant mini baby grand piano design with exquisite polished ebony cabinet and a modern leg design.
Graded-Hammer Piano Action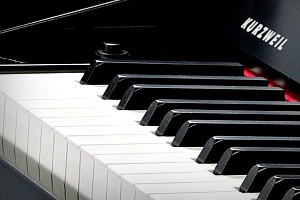 Perform on an 88-note fully-weighted graded hammer-action keyboard featuring a 3-point velocity sensor for enhanced responsiveness.
500 Inspiring Factory Presets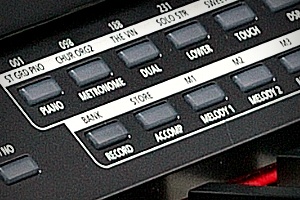 Enjoy a wide range of preset sound selections, featuring pianos (Kurzweil's Triple Strike samples), electric pianos, organs and orchestral instruments.
Auto Accompaniment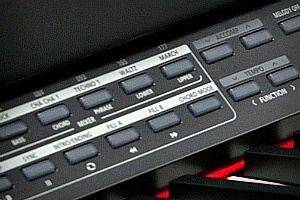 The MPG100 offers 200 styles which can be used to provide fully orchestrated backing arrangements including rhythm, bass and chord accompaniment – all based on the chords you play with the left-hand accompaniment section of the keyboard.
Independent Reverb and Chorus Effects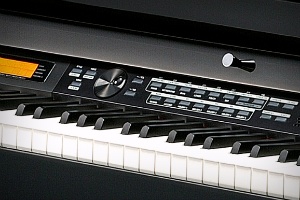 Enhance and depth of your performance with dual effects, each separately adjustable.
MIDI Song Recorder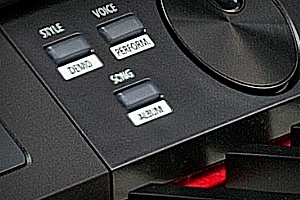 With the easy-to-use song recording features, you can record your own keyboard performances. Up to 10 user songs can be stored with 6 tracks each (1 Accomp track, 5 Melody tracks).
Performance Assistant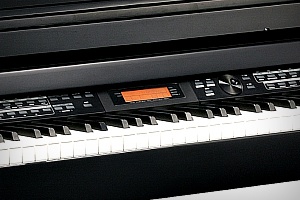 The innovative Performance Assistant helps you to perform various idiomatic guitar and piano phrases that can be triggered by playing just a few keys, facilitating the performance of strums, broken chords, and phrase endings.
Live in Harmony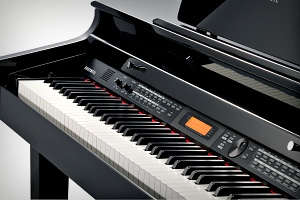 Enable the harmony function and automatically add expressive harmonies to the notes you play in the right hand. 16 styles to choose from.
Total Recall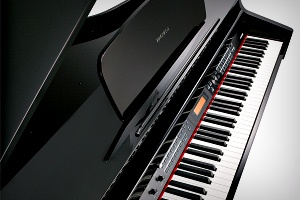 Let the Registration Memory feature simplify your most sophisticated performances. Panel memory registrations allow you to save virtually all panel settings for instant recall at the touch of a single button.
All specifications subject to change without notice.
Keyboard:
88-Note, fully-weighted graded-hammer action with a 3-point velocity sensor and adjustable touch sensitive keys
Keyboard Sensitivity:
3 selectable dynamic response levels + 1 fixed
Display:
Multi-function LCD
Polyphony:
128 voice
Preset Programs:
500
User Presets:
32 (8 banks of 4) recallable panel memories
Demo Songs:
5
Music Library:
60 preset songs with melody off
Metronome:
Yes
General MIDI:
No
Splits/Layers:
Yes
Transpose:
Full transposition to any key, +/- one octave
Tune:
+/- 50 semitone
Effects:
Reverb; Chorus;; Brilliance tone control
Auto-Accompaniment:
200 styles plus 10 user
Recorder/Sequencer:
6 tracks (5 melody + 1 accomp.);10 user songs
Sound System:
4-speaker, 40W+20W, stereo
Audio Outs:
Stereo 1/4″ line out (for connecting to external amplification)
Audio Ins:
Stereo 1/4″ line in (for connecting external sound sources)
Headphones:
(2) 1/4″ stereo headphone outs
MIDI I/O:
MIDI In/Out
USB:
USB Type B port (for MIDI over USB)
Pedals:
(3) built-in switch-type: sustain (w/ half-damper), sostenuto, soft
Finish:
Ebony Polish
Bench:
Matching bench included
Dimensions:
34.7″ (H) x 56.4″ (W) x 35.6″ (D)
88 cm (H) x 143.2 cm (W) x 90.3 cm (D)
Weight:
212 lb / 96 Kg
Power:
Internal Power Supply