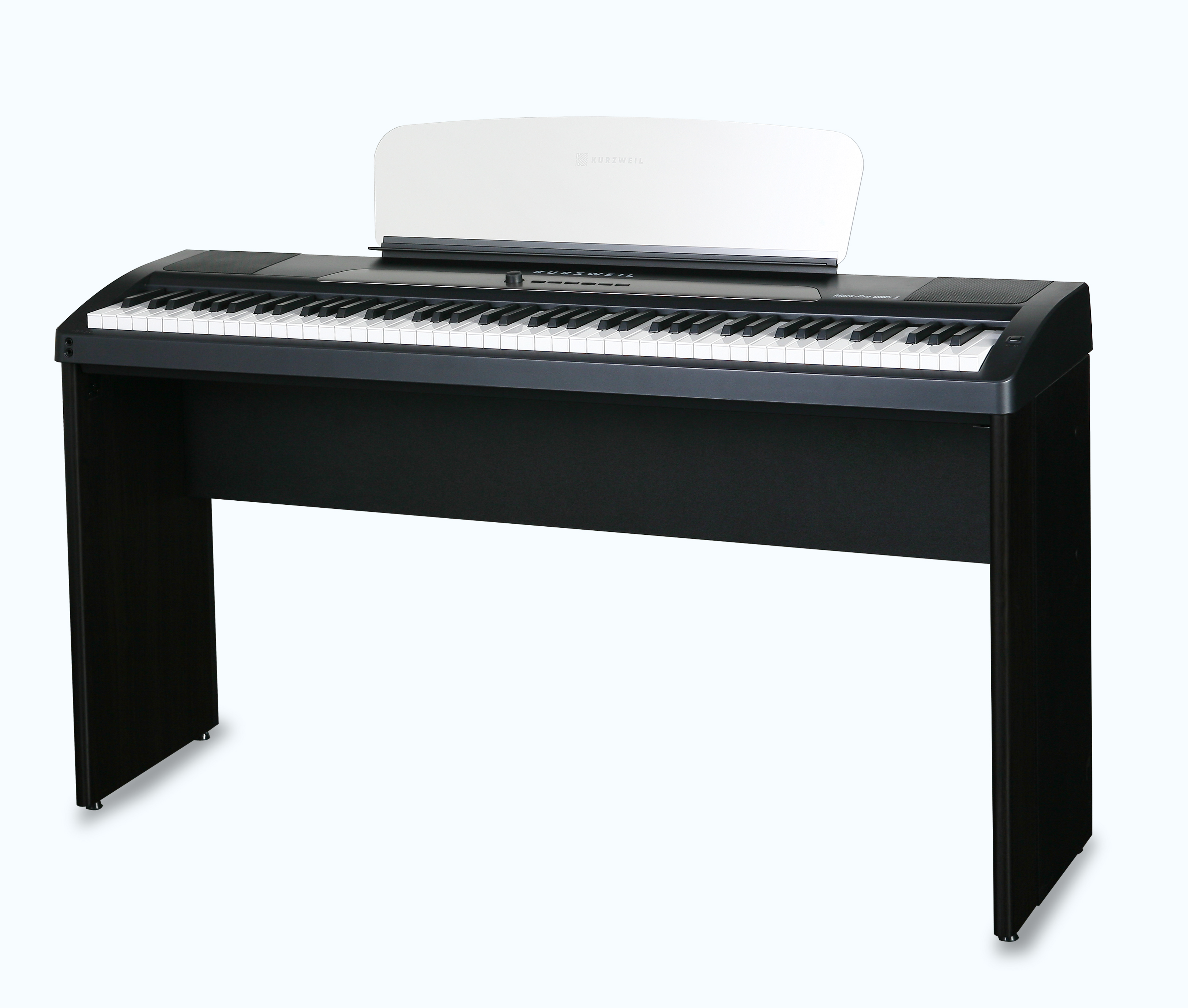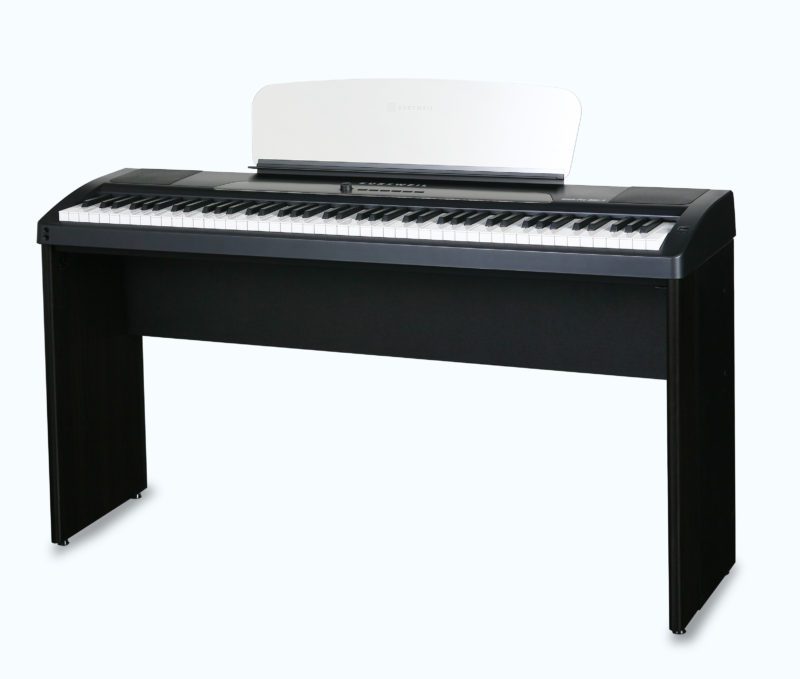 The Kurzweil Stylish Piano line features the most famous Kurzweil sounds, advanced functionality, and good looks in a lightweight, versatile cabinet design. Choose the model that's perfect for churches, schools, clubs, or just relaxing at home. Their compact size, light weight, and optional wood stand will fit anywhere and everywhere.
Famous Kurzweil Sound
Kurzweil's triple-strike 3-layer piano sound has helped to make Kurzweil professional synthesizers world famous since 1982. Kurzweil Mark Pro pianos use this same technology to offer the best piano and other instrument sounds available in any digital piano. Additionally, pro level reverberation and chorus effects offer a room-filling, concert-halt playing experience.
Stylish Design
The Mark Pro S line uses a thoughtful, elegant design of cabinet, music stand, and button panel that will please the most sophisticated player. The light weight and choice of tabletop or console style will appeal to the most practical minded.
Expressive, Natural Touch Keyboard
All Mark Pro models feature real hammer-action natural touch piano keyboards. The touch response is adjustable 7 ways and its exceptionally wide dynamic range goes from the softest intimate pianissimo to the loudest reverberant fortissimo.
Layer Function
The MarkPro ONEiS allows any two instrument sounds to be played together using the Layer function. Combinations such as Piano and Strings, Organ and Choir, and others are readily available. The possible combinations are near endless!
Metronome and Recorder Functions
The MarkPro ONEiS has a built-in, fully adjustable Metronome. The Recorder function lets you record and save your performances.
Convenient Computer Connections
A USB connection provides simple connection to a computer or laptop for use with any music software. No software driver is necessary. Conventional MIDI In and Out jacks are also available for easy connection to other MIDI equipped instruments.
Optional Stylish Wood Stand
With the optional matched stand (sold seperately), your Mark Pro S piano becomes a fully integrated, beautifully designed console piano. Still its light enough to be moved as a unit or, thanks to thumbscrew attachments, may be easily disassembled again.
All specifications subject to change without notice.
All specifications subject to change without notice.
Mark-Pro ONEiS Features

Keyboard:
88-note, fully-weighted hammer action
Keyboard Sensitivity:
7 selectable response levels
Display:
none
Polyphony:
64 voice
Multitimbral:
16 channel
Preset Programs:
64 Selectable Sounds
General MIDI:
No
Layering:
Any 2 sounds may be layered and their relative volumes adjusted
Splits:
No
Transpose:
Full transposition to any key, +/- two octaves
Tune:
Adjust +/- 50 cents
Intonation:
6 tunings to choose from (Equal, Classic Just, Just flat7th, Pythagorean, Mean Tone, Werkmeister)
Effects:
10 Reverbs (halls/chambers/rooms) and;

10 Variation Effects (delay/chorus/flange/distortion/compression)

Rhythm Patterns:
20 pre-recorded drum patterns in a variety of styles
Recorder/Sequencer:
1 song, 1 track, with the ability to record layer combinations as well as real-time selection changes
Demo Songs:
50 built-in pre-recorded piano demo songs; 11 instrumental/ensemble demos
Sound System:
Built-in, 10W x 2, 4×6 inch full-range bass reflex speakers
Audio Outs:
Stereo left/right RCA line outs (for connecting to external amplification)
Audio Ins:
Stereo left/right RCA line ins (for connecting external sound sources)
Headphones:
(2) 1/4″ stereo headphone outs
USB:
(1) port; "Plug and Play" USB functionality allows MIDI over USB for connecting to/from an external computer sequencer
Pedals:
(1) TRS Input supporting sustain and sostenuto pedal functionality (unit ships with one single style footswitch; dual pedal optional-sold separately)
Dimensions:
3.5″(H) x 51.50″(W) x 11.80″(D)

90 mm (H) x 1310 mm (W) x 360 mm (D)

Weight:
37.50 lbs / 17 Kg
Power:
External, 15V 2.5A DC power supply
Accessories Included:
15V 2.5A DC power adapter

Music Rack

Sustain Pedal (KFP-1)

Sold Separately:
Headphones

Piano-style wood stand
MIDI Controllers
Troubleshooting
User Manuals
OS Updates
Device Installer
For Windows XP Only. Note: Mac OSX, Windows Vista and later do not require a driver/device installer.