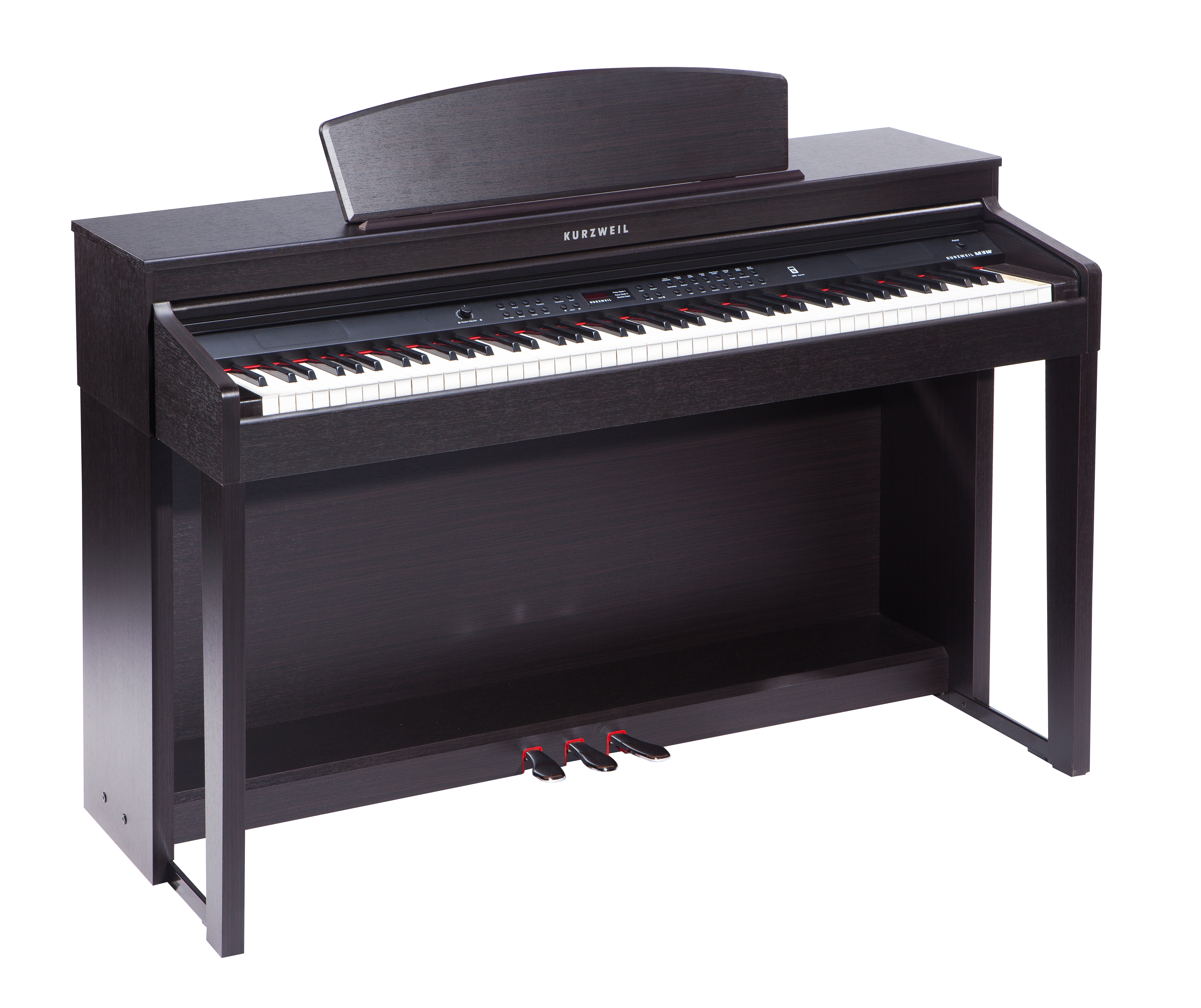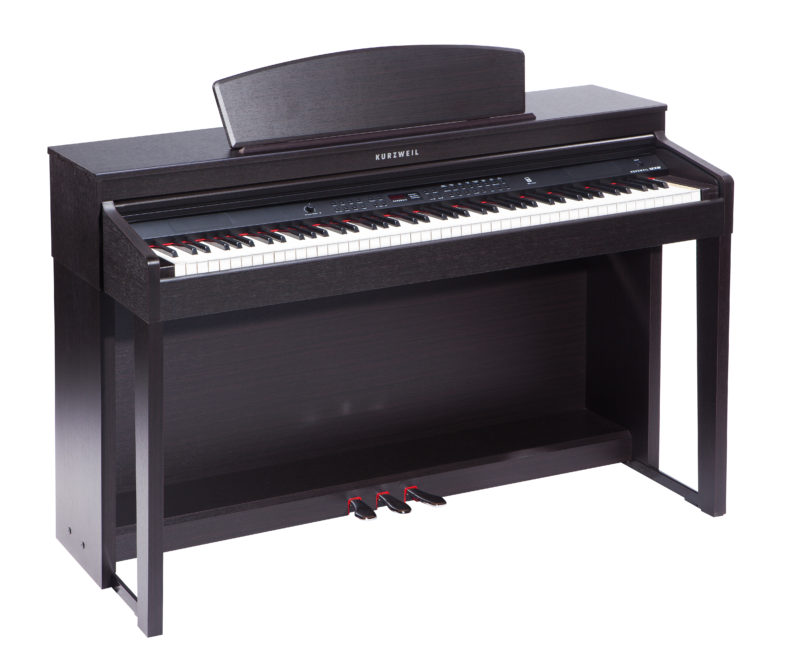 The M3W digital piano combines value and affordability with 200 of the best sounds ever developed for Kurzweil professional keyboards and sports features specifically engineered for sound, convenience, and control.
DESIGN
Fusing traditional spinet piano design and styling, the M3W is available in two professional finishes: a fine Simulated Rosewood finish and a classic Elegant White. The powerful 50-watt stereo amplifier and 2-way 4-speaker sound system with downward-facing 165mm woofers and partial back panel provides excellent sound dispersion to complement the instrument's broad sound set. With tweeters placed directly behind the keys, a wide stereo sound field is created, optimized for both player and audience. The M3W's simple and intuitive control panel is angled for improved visibility/use and features an easy-slide key cover.
SOUND
The M3W uses Kurzweil's exclusive Mara sound chip and VAST architecture to create the most realistic and playable instrument sounds available. The digital signals are then realized through hand-matched amplifiers and speakers to produce a beautiful yet intimate sound field.
The M3W sonic pallet features the famous Kurzweil Triple Strike Grand Piano along with a diverse array of top notch and categorized instrument selections – electric pianos, organs, orchestral, drums, basses, horns, winds, guitars, percussion and more – are all available for creating entire musical productions in the comfort of your own home. (owner's manual with preset list available for download here)
The M3W's easy Split and Layering features offer yet another dimension of performance while it's "Favorite" buttons provide instant recall of your most needed presets and custom combinations.
CONTROL
Great piano control starts with the keyboard action and the M3W has Kurzweil's best "wood embedded" graded hammer action. Hammer motion, not key motion, is sensed to provide the most accurate dynamic control possible. The new M3W keyboard grades the hammer weight through 4 gradual zones from light in the treble end to heavy in the bass end.
Complimenting the key-action, the M3W features all 3 standard acoustic piano pedals built-in (sustain, sostenuto and soft).
All specifications subject to change without notice.
All specifications subject to change without notice.
Keyboard:
88-Note, fully weighted, "wood embedded" graded hammer action with adjustable touch sensitive keys (Fatar TP/40W)
Keyboard Sensitivity:
10 selectable response levels
Display:
Scrolling alphanumeric LED
Polyphony:
64 voice
Preset Programs:
200 Expressive sounds including award winning Triple Strike Grand Piano,10 Drum kits
User Presets:
4, one-touch recallable "favorites", providing quick access to customized selections.
Demo Songs:
51 Built-in Songs & Voice Demos
General MIDI:
No
Splits/Layers:
Quick Split/Layer, easy access with adjustable relative volume
Transpose:
Full transposition to any key, +/- two octaves
Tune:
Adjust by Cents (+/- 100 cents)
Effects:
Dual ambience and effect processors (reverberation and chorus). Rich and complex effects from the PC3 Series.
Drum Patterns:
100 pre-recorded interactive patterns in a variety of styles
Metronome:
Yes
Recorder/Sequencer:
2-Track; 20 Song capacity
Sound System:
50-watt, 4-speaker stereo sound system
Audio Outs:
Stereo left/right RCA line outs (for connecting to external amplification)
Audio Ins:
Stereo left/right RCA line ins (for connecting external sound sources)
(1) 1/8″ stereo MP3 IN
Headphones:
(2) 1/4″ stereo headphone outs
MIDI I/O:
MIDI In and Out connectors
USB:
(1) port; "Plug and Play" USB functionality allows MIDI over USB for connecting to/from an external computer sequencer; no software driver needed
Pedals:
(3) built-in switch-type sustain, sostenuto, soft
Finish:
Simulated Rosewood & White
Bench:
Matching bench included
Dimensions:
34.53″(H) x 54.33″ (W) x 19.17″ (D)
87.7 cm (H) x 138 cm (W) x 48.7 cm (D)
Weight:
134.5 lb / 61 Kg
Power:
90-250V AC free voltage external power supply; 24V 2.5A DC
Product Comparisons
Troubleshooting
User Manuals
OS Updates
M3W v1.16 Update – 2.8 MB
.KUF file (O/S, Objects, Boot Loader);
Read Me (installation instructions and revision history)
2017-08-28