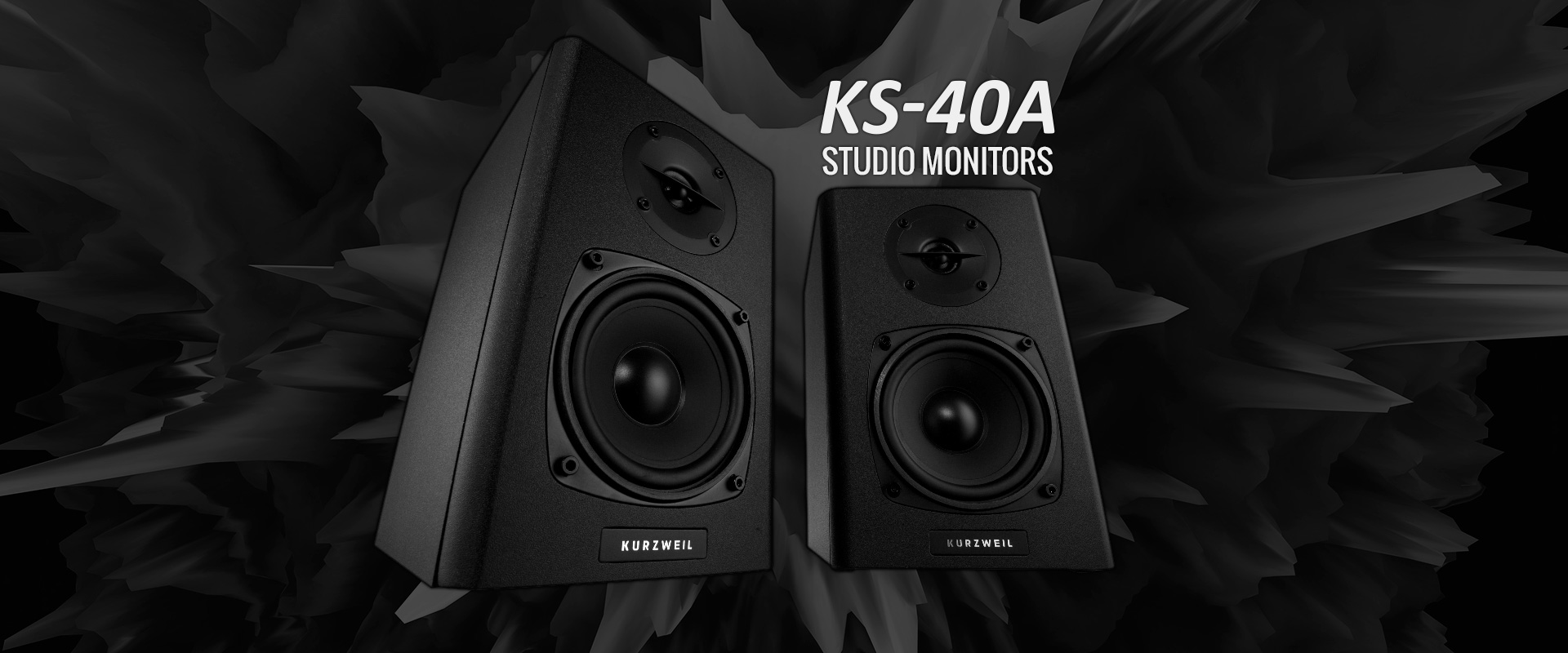 Compact, Self-Powered Monitors
Our motto, "It's The Sound" applies to not only keyboards, but to every step in the process of making music…. And so Kurzweil is pleased to present a new line of affordable, compact self-powered monitor speakers. The first model to be introduced, the KS-40A system, is a solid value, competing favorably with other monitors in and above its price range.
We believe the most accurate sound comes from the right combination of ingredients. Housed in a heavy, thick-walled, non-resonant wood cabinet, the KS-40A's sport a magnetically shielded, two-way, bass reflex design and a compact footprint.
Featuring a premium 3/4″ dome tweeter and wide-range 4″ woofer, 20Wrms system amplification and separate volume and bass adjustments, the KS-40A's are an ideal monitoring solution for the personal project studio or keyboard setup.
High frequencies are crisp and clear, low frequencies are balanced and warm, imparting a transparent sound to the KS-40A's with equal amounts of presence and clarity. For musicians who are on a budget but are unwilling to compromise when it comes to sound quality, the KS-40A's are the perfect compliment to our other affordable, high quality product lines like the SP and PC3LE series.
All specifications subject to change without notice.
Cabinet:
100% wood cabinet using 12mm non-resonant MDF
HF Driver:
3/4 inch (19mm) dome type, magnetically shielded
LF Driver:
4 inch (106mm) diameter, magnetically shielded
Bass Reflex Port:
rear panel
Power Output:
10Wrms x2 (at 1KHz, 10% THD)
Frequency Response:
100-10,000Hz (at -5dB)
Controls:
1x Volume, 1x Sub Bass
Input Ports:
2 pairs of stereo RCA jacks, internally mixed

(Line A inputs feature treble boost of 9dB at 10KHz; Line B inputs are flat)

Input Impedance:
20K Ohms
Height:
(9-1/16″) (23.00 cm)
Width:
(5-7/8″) (14.80 cm)
Depth:
(7-1/16″) (18.00 cm)
Weight:
(11.00 lb.) (5 kg), both cabinets