Josué Santana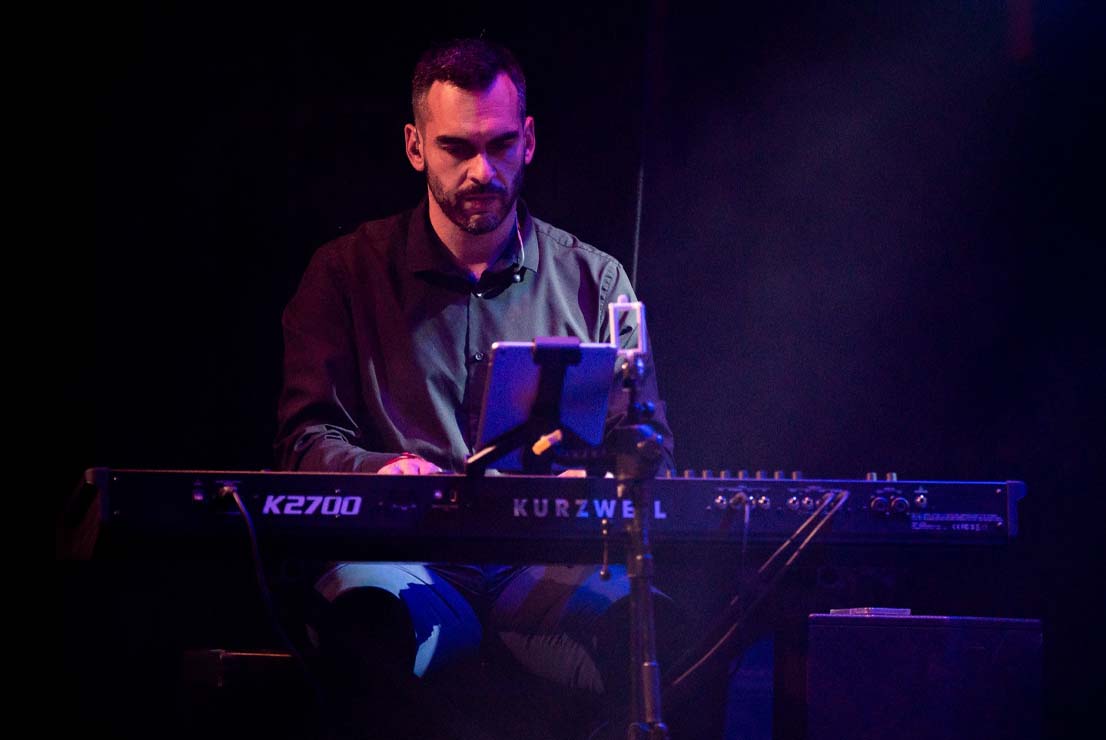 "Kurzweil brings me more than I expected. K2700 has the most realistic acoustic piano feel I have ever experienced. In addition to its easy way of editing programs to amazing levels."
                                                                                                                                    – Josué Santana
BIO
---
Canarian pianist and composer born in Las Palmas de Gran Canaria on September 8, 1986. From an early age he began to stand out on his instrument for his skills, interest and knowledge of modern harmony and Jazz. Since the beginnings he has always linked his musical knowledge with his skills in the field of music computing, knowledge he acquired from his father, mentor and first music teacher Francisco Santana, which has helped him to be a versatile musician in studio recording, having collaborated on more than twenty albums. He has studied Composing at CSMC (Conservatorio Superior de Música de Las Palmas).
Perhaps because of his island feeling and character, he has always felt attracted to Latin music, taking a special interest in Latin Jazz and traditional Cuban music, styles in which he has specialized studying a large part of its rhythms and variants, having the opportunity to work with recognized artists of such Descemer Bueno, awarded with five Latin Grammys. He has worked as a musical arranger in the projects: "A Golpe de Son", "La Noche En Cuba", "Una Noche de Trova". In addition to having recorded keyboards and accordion for the main theme of the successful musical "Cesar Manrique".
Josué Santana is currently on tour with El Vega Life and working on his personal project Josh & Claire with singer Clara Valerón, while composing and arranging for numerous projects such as SinfonicAs for Las Palmas Symphony Orchestra.
He has worked with Johnny Klimek composer of music film as Matrix, Perfume, Netflix series, HBO.
Throughout his career he has performed and worked with international musicians and artists such as; Yone Rodriguez (Canary Timplist), José Carlos Díaz (Canary Guitarist), Pep Garau (Catalan Trumpeter), Gerson Galván (Canary Singer), Clara Valerón (Canary Singer), Walter Renato (Venezuelan Singer), Chago Melián (International Canary Singer), Braulio (International Canary singer), Manny Manuel (International Puerto Rican singer), Cherito (International Dominican singer), Totó Noriega (Cuban percussionist), Descemer Bueno (International Cuban composer and producer) El Vega Life (Canary singer-songwriter), Diamela del Pozo (Cuban singer) Mestisay (International Canarian group), Ivette Cepeda (International Cuban singer). Sergio de Jesús Padrón (Cuban singer-songwriter).
Josué is currently the owner and user of a K2700 and a PC4 thanks to the support and the best price offered by Javier Ramíres, Commercial Director of APLICACIONES ACUSTICAS MUSICALES, S.L. to whom he is very grateful for his attention.
Artist Profile
---
Products Used
Played With
Yone Rodriguez
José Carlos Díaz
Pep Garau
Gerson Galván
Clara Valerón
Walter Renato
Chago Melián
Braulio
Manny Manuel
Cherito
Totó Noriega
Descemer Bueno
El Vega Life
Diamela del Pozo
Mestisay
Ivette Cepeda
Sergio de Jesús Padrón
Online Presence