Rob Cottingham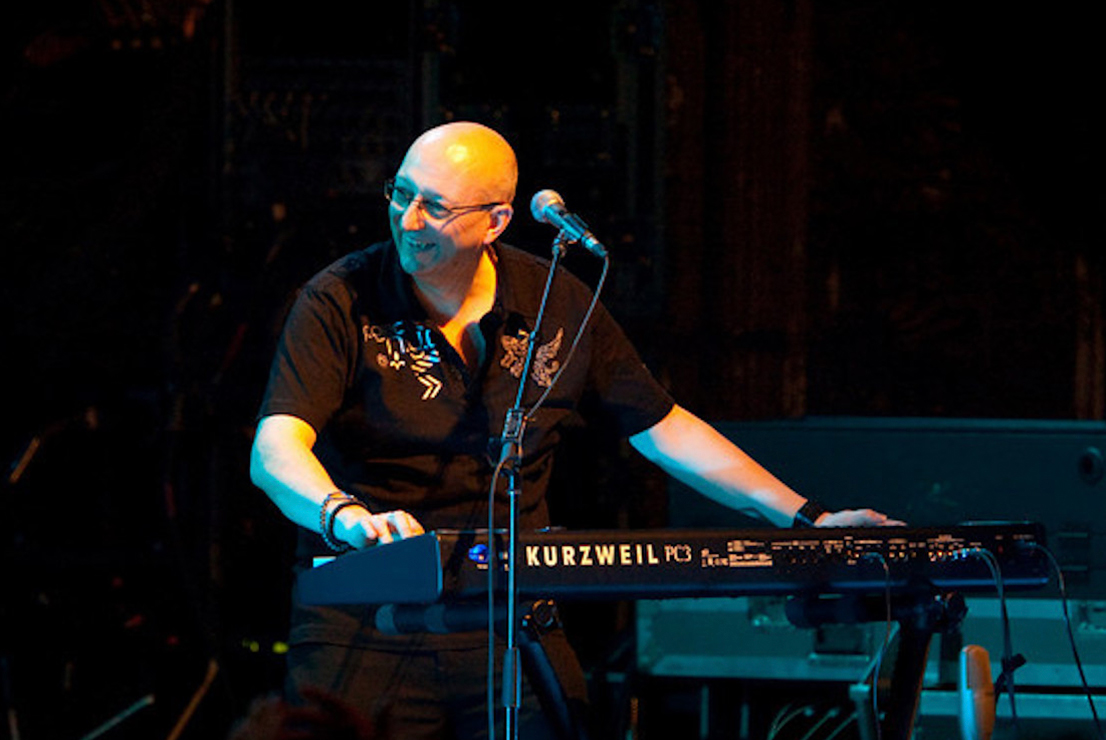 "Kurzweil has the best keyboard action, and – most crucially – the best sounds when compared to other manufacturers' keyboards. I love the fact that I can, after some nifty programming, if necessary gig with one keyboard – my PC3. With the VA-1 synth engine included 'under the bonnet', it did me proud at a gig in Philadelphia, where – due to the fact that other bands had had banks of five keyboards – the crew seemed somewhat bemused that I only needed one keyboard for the whole set. From the standing ovation after our first number – it clearly did not matter an ounce. The Kurzweil quality shone on through!"
– Rob Cottingham, keyboardist/vocalist/composer/arranger/producer
BIO
---
Rob Cottingham was born in Peterborough in Cambridgeshire, UK. He is the youngest of three children born to George and Maisie Cottingham. He grew up in the town of Bedford, and from a young age he was fascinated to look up at his mother playing piano and singing songs from classic musicals, such as West Side Story and Fiddler on the Roof. He learnt piano whilst at school from the age of nine to sixteen.
In the early days, he formed a school band called 'Telpa Europa' (Latin for 'earthworm'). As Rob says 'great name not so great band!'. A few years later, in the early '80's, he and boyhood friend Andrew Wildman collaborated to form a contemporary rock band called 'Cinema' and wrote the concept album 'Golden Ring' which was the first indication of his progressive rock leanings. In the early 90's, Rob gigged regularly on keyboards with a Rhythm 'n' Blues band, The Waterbreakers. This gave him extensive gigging experience as well as an insight into, and an overview of, a different musical genre. He was, however, always itching to write his own material, work on developing his own musical style, and form a band in which he could express himself. Rob then formed 'Ghost' in late 1995 with Andrew Wildman, and became the main writer and core of the group, at which time they met guitarist Michael Daly, and the 'Ghost' sound was born – gigging with covers from Pink Floyd, Simple Minds, Seal and the like. In 1999/2000 Rob was then heavily involved with developing and composing parts of the music for 'The Orpheus Project' which included a classical piano piece written by Rob especially for this new millennium project. The next natural progression for Rob was to write, arrange and produce his own solo album – the result of which is his thought-provoking album – 'Behind The Orchard Tree' – recorded at Linford Manor Studios (Jamiroquai, Feeder, Skunk Ananse etc) in Milton Keynes, UK and released in March 2002.
Touchstone
As a result of a wish to gig the album the next step was to form a new band to work on developing the album material for a live set, as well as working on more material. From this, Touchstone was born, with the name taken from one of Rob's lyrics in the Orchard Tree album – representing a dynamic combination of sensitivity, and hard-hitting rock.
A Meeting of Minds
After Michael Daly left the band in December 2002, Rob went recruiting for a guitarist. Adam Hodgson sent Rob his instrumental album, SSOTS, Rob met up with Adam on 4th February 2003, and it was clear from day one that the similarity in tastes, difference in influences and diversity in creative thinking would lead to a new and exciting sound and so the innovative and dynamic Touchstone sound was born.
Touchstone recorded and released their first album, Discordant Dreams, which they released in September 2007 after the successful release of an EP, Mad Hatters, in 2006. On 1st June 2009 – they released their second album, Wintercoast, which features a narrative by Oscar-winner Jeremy Irons, to much high praise in the music press.
John Wetton handed over an award in January 2008 to the band when they were voted Best New Band by the Classic Rock Society whose patron then was Rick Wakeman. They also came second in 'best album' category – not bad for their first attempt. Touchstone were also voted Best New Indie Prog Rock band by the global Prog Hall of Fame Awards in 2008, based in the US.
As well as many individual gigs, they toured with It Bites in September/October 2008 in the UK, and in May 2009 enjoyed much acclaim at the Rites of Spring Festival (ROSFest) in Philadelphia. The band enjoyed a successful 2009 playing not just RosFest in Philadelphia in May, but also the Calprog Festival in California in October 2009, finishing with a sold-out Christmas gig in Kingston Upon Thames that December.
In terms of 2010, they headlined at Winter's End Festival in Stroud in March, and kicked off proceedings at the High Voltage Festival in July in Victoria Park, London, where they played alongside the likes of ZZ Top, ELP (Emerson, Lake & Palmer), Foreigner and Steve Hackett from Genesis, to name but a few. There were some 35,000 festival-goers.
In 2011, they were signed to SPV and released The City Sleeps – entering the UK Rock Album Charts at No 36. In 2013, they signed to Esoteric and released Oceans Of Time – entering the UK Rock Album Charts at No 24.
The band toured the UK in October 2011 and 2013 to promote the City Sleeps and the Oceans albums respectively – fitting in a European tour in Autumn 2012.
In 2014, the band played a set at Trinity Live – a charity fundraiser, and graced the main set at Summers End Festival. They also played on the main stage at HRH Prog in March 2015.
Solo Albums
Apart from Behind The Orchard Tree in 2001, in January 2013, Rob also released his acclaimed eclectic solo album, Captain Blue, on his own Heavy Right Foot label, which featured a guest guitar solo from Steve Hackett, of Genesis fame. Steve's drummer, Gary O'Toole played drums on the album, and Heather Findlay, ex of Mostly Autumn, also featured. The album also featured a stunning narrative by Bond movie actor Shane Rimmer – the voice of Thunderbirds Scott Tracy. As Rob states: "That was a joy to make, with much laughter in the studio – an album full of stars!"
In February 2019, he recorded an updated version of his original solo album, with John Mitchell on guitars, and the album Back Behind The Orchard Tree was released in April 2019 digitally, then on CD at a launch gig in October 2019 in Parkvilla Theater, Alphen aan den Rijn in Holland.
In his words: "I loved the songwriting on my first solo album, but had always itched to improve the production values (it was recorded in seven days in an analogue studio); raise the bar but also retain the essence of the songs. I had learnt a lot in the seventeen years prior and wanted to inject that experience into proceedings – as well as spend more time on production values." The album has received five star reviews across the music press, and included a brand new song, Out Of Time, which reflected Rob's more up-to-date rock sensibilities.
Cairo
After forming the group fourteen years prior and after some farewell gigs in November 2015, Rob took the decision to leave Touchstone and form a brand new band called Cairo, where he wanted to keep the same sensibilities in writing, but make the guitars heavier, and add more electronica to the sound.
The band was announced on the 3rd August 2016 across the UK Progressive Rock Press, and the album 'Say' was released on the 3rd October to rave reviews. The band won Classic Rock Society's Best Newcomer Award for 2016.
The band features James Hards on guitar; Paul Stocker on bass and Graham Brown on drums.
In a statement, Rob said: "As soon as John Mitchell and I had finalised production at Outhouse around the 23rd July, I was keen to get a professional 'outsider looking in' view of what we had just produced, so I approached Steve Hackett, who, of course, had produced a stunning solo on my Captain Blue album some three years prior. The band were pleased and delighted when Steve, who we would describe as 'not just prog royalty but a rock legend', agreed to be the first person to listen to the album and give some candid feedback, and – in all honesty – we were blown away by his genuine enthusiasm for the album."
"I very much enjoyed listening to songs from the album 'Say' by Rob Cottingham and his new band Cairo. Intriguing arrangements with amazing layers, strong vocals and blazing guitar work. I recommend this to all." Steve Hackett, August 2016
The band did a UK Tour in November 2016 to launch the album, and gigs in 2017 were rounded off by a gig in international waters on the HMS Prog Cruise in 2018 (with Caravan, PFM, Martin Turner, Geoff Downes, Roger Dean), involving a double gig  – one in Amsterdam and one on the cruise ship on the trip back.
Following a blazing Holland gig in October 2019 – the band are back in the UK with a vengeance – and a brand new girl singer, too – Sarah Bayley who joined in August 2019.
After Rob released his solo album, Back Behind The Orchard Tree, with John Mitchell on guitars, in April 2019, he and the band launched their first live album, "Alive In Holland", in January 2020 in Milton Keynes, including new songs which will feature on Cairo's next studio album due out in late 2020.
The band also released video single "Deja Vu (Live)" via Prog Magazine in advance of the live album launch in January 2020, and have announced further UK gigs together with a slot on Cambridge Rock Festival's (CRF) main stage in June 2020. In celebration of the CRF announcement, the band released a live video of their song, "Wiped Out (Live)" – recorded in Holland.

Artist Profile
---
Products Used
Plays With
Cairo
Touchstone
Ghost
The Waterbreakers
Online Presence